Vodafone is the operator who occupies first place in the country in terms of the subscriber base. It has more than 40 million users. Naturally, with so many subscribers, it is obvious that you should use Vodafone SIM-cards, since a VoIP GSM terminator in Egypt will be able to handle most of the traffic at the minimum on-net tariffs.
Alas, having a large subscriber base,Vodafone has one of the strongest AntiFraud systems in the country. Nevertheless, many people are interested in VoIP GSM termination in Egypt, because it is advantageous to buy large tariff plans with free minutes within the network. This will allow traffic to inexpensively go through VoIP Gateways bought here in Egypt.
The main line of tariffs, which are attractive to terminate via Vodafone, is Red and Flex. The others are suitable for prepaid customers. Red offers 5 tariff plans and Flex provides 6 options.
Want to start the GSM termination business in Egypt ? We offer you NewBusiness package for beginners, which will ensure you have a successful start. The solution from GoAntiFraud includes the necessary VoIP equipment, tools to protect against the SIM-block, as well as software to computerize the operation and remote control over GSM gateways.
In the Flex line, there are several interesting packages: 60 and 80 as well as Flex Limit offers 2 similar packages. Whatever the choice, 1 minute of conversation would cost $0,003. At the same time, even special packages Red Him and Red Her have much higher price of $0.017 a minute. In addition, Red provides 500 on-net minutes less than Flex does.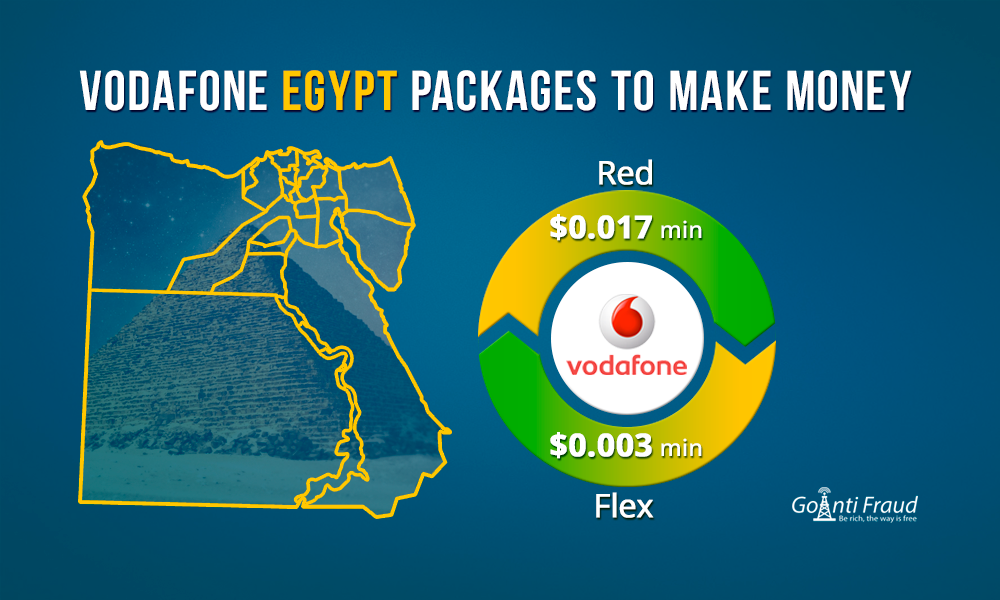 If you consider the Flex packages, you should bear in mind that the operator provides 2,500 minutes in the package 60, with Flex 80 proposing 1,000 minutes more. It is obvious that for the same price, the terminator is better off purchasing the latter and buying GoIP 16 in Egypt. However, no one wants to be locked ahead of time. Taking into account the average operation duration of Vodafone SIM-cards, which is 5 days, working with Flex 80 for 8 hours your cards will be blocked. That is why, you had better buy Flex 60.
It should also be noted that Vodafone is not so demanding of a constant telephone network load, and the terminator can safely use the traffic for 5-8 hours a day using Flex Limit and running a minimum risk to be blocked before the time the package provides expires.
More about the quality of the internet for VoIP termination in Egypt here.
Your GSM termination business Egypt can bring you more profits! Connect your equipment by EjoinTech & China Skyline, GoIP or Topex to GoAntiFraud to provide 100% productivity. You'll make more money as soon as the first months of work with the service.