Dominica is a small country, but quite promising from the point of view of starting a voice termination business. The average rate is $0.12 per minute, while numerous tourists generate impressive amounts of traffic. At the same time, the Internet sector is actively developing, there are two competing providers in the market - Flow and Digicel who offer high-speed Internet connection. Let's find out now how much their services will cost.
Digicel Dominica provides access to fiber optic Internet and the connection is free of charge. There are two Internet plans to choose from:
Fibre 25. Achievable speed - up to 25 Mbit/s, cost - $61 per month.
Fibre 50. Achievable speed - up to 50 Mbit/s, cost - $72 per month.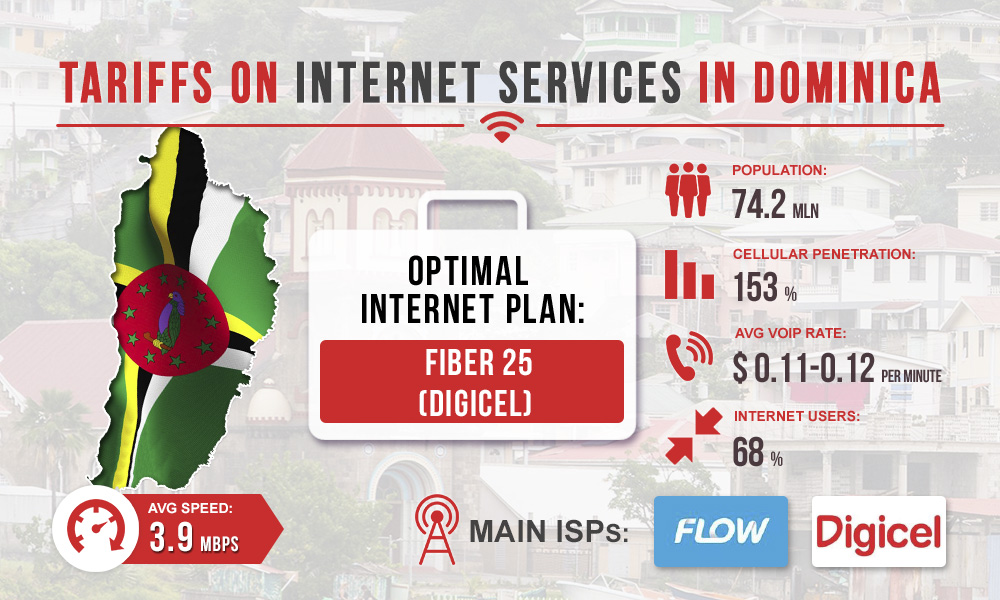 Provider Flow also offers high-speed Internet connection services, but via wireless technology. There are three packages to choose from, which are notable for affordable speed and price:
Mega. Achievable speed - up to 2 Mbit/s, cost - $28 per month.
Mega Max. Achievable speed - up to 4 Mbit/s, cost - $62,5 per month.
Mega Optimum. Achievable speed - up to 8 Mbit/s, cost - $96 per month.
For efficient termination of international calls using voip gateway hardware with sim,the speed of 4-5 Mbit/s will be sufficient (provided that you place equipment for a small number of channels in one location). But it is better to give preference to stable and reliable fiber-optic Internet. The most suitable Internet package for uninterruptible operation of the gateways is Fiber 25 from Digicel, which will cost you $ 61 a month.