Salvador is a small country, but the most populous in Latin America (its population is about 6.5 million people). There is a lot of voice traffic here and good opportunities for starting a business in the niche of VoIP traffic termination. To do this, you need to select profitable tariff plans from large operators. We will tell you about the offers from Claro, the second largest provider of cellular communication services in El Salvador.
The share of Claro in the country's market is about 27%. GSM coverage of this operator is not inferior to the coverage of Tigo, the leader of the mobile sector. At the same time, it has lower prices for outgoing calls. SIM-cards are sold at a price of 3-5 US dollars apiece.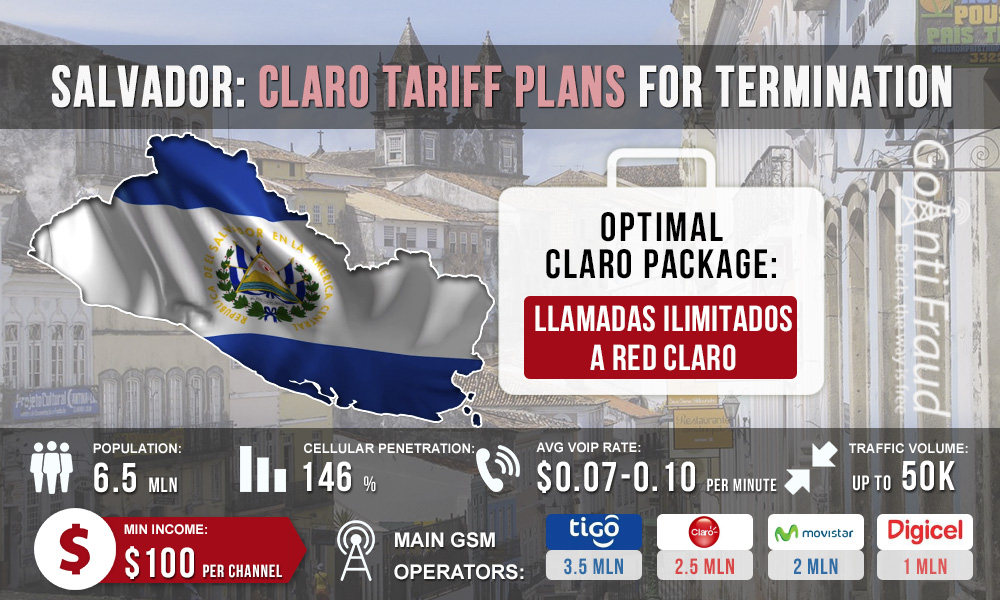 With average call rates of mobile voip about 11-12 cents, the standard cost of a local call minute is quite high in El Salvador. Therefore, we recommend to take advantage of special offers from Claro, among which there are good options for the daytime unlimited packages:
Llamadas Ilimitados a Red Claro. Unlimited for all numbers of Claro. Tariff plan is calculated for 1 day, the cost of connection is $ 0.50.
Llamadas Ilimitados a todos las redes. Unlimited calls within the network/ Tariff plan is calculated for 1 day, the cost of connection is $ 1.50.
Choose an unlimited package, depending on what amount of traffic you plan to land. For example, with the offer of Llamadas Ilimitados a Red Claro, the minute of the call will cost only $0.001 (if you terminate of 300 minutes a day). Thus, your minimum earnings will be approximately $500 (from each port of your VoIP GSM gateway).