Peru is a state with a population of more than 32.5 million people and a mobile penetration rate of 111% (about 35.5 million). Large volumes of voice traffic are constantly generated in this Latin American country and terminators can earn at least $50 from each gateway channel on this. Although the average rate in this direction is low ($0.009), local cellular communication is cheap in Peru due to high competition. These are good prerequisites for earning on termination.
Peru has one of the lowest penetration levels of a fixed-line telephony in South America due to poverty, high prices for services and geographically disadvantageous position of the country. In contrast, the mobile sector is well developed here, with four operators competing:
Movistar;
Claro;
Entel;
Bintel.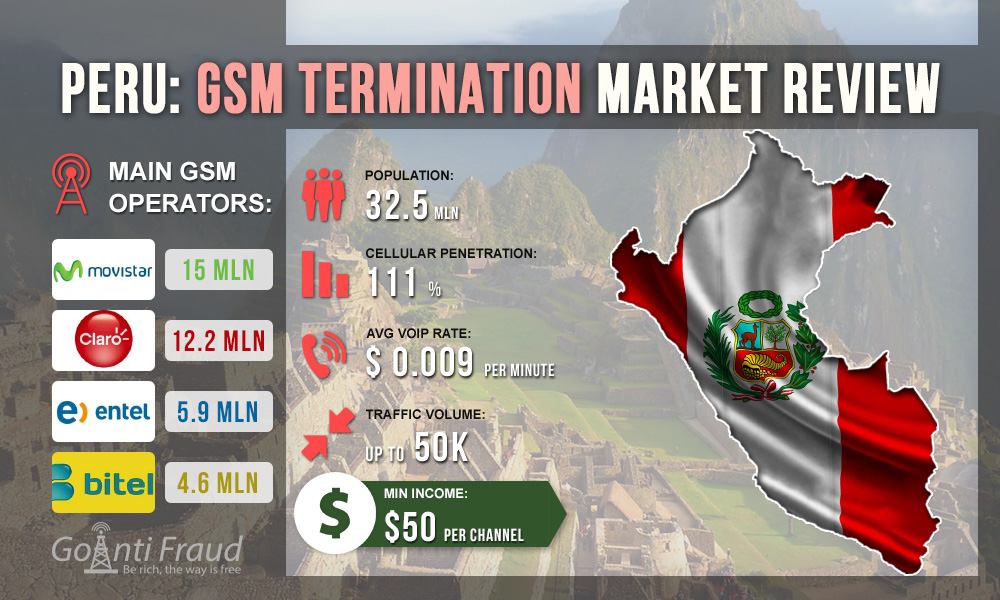 Movistar is the market leader, although its subscriber base has decreased over the past year. At the same time, the number of Claro Peru clients keeps growing. Virtual operators Virgin Mobile and Tuenti also operate in the country. The leader Movistar provides the best coverage but its prices for services are the highest.
You can buy a SIM-card in Peru for $1.50. Since 2015, the operators started verifying the buyer's identity - they require local residents to produce an ID with a fingerprint and almost never sell start plans to foreigners. Despite this, a black market has developed in the country, where they sell pre-registered SIM-cards, even at the same price as in the operators' branded stores. In some markets, street vendors even distribute such cards for free.
If you decided to locate gsm gateway module in Peru, choose a tariff plan with the most favorable terms.