Bitel is the smallest and the newest cellular operator in Peru. It appeared in 2016, but now it occupies a strong position in the local market. Its subscriber base totals more than 4.6 million, while Bitel has a good GSM coverage across the country. With proper choice of tariff plan, you can make money on termination of calls using Bitel numbers.
Prepaid SIM-card of this operator is called BiFri, it is sold for only $0.3. Having bought a card, you can activate the tariff plan Ti5 or Ti10 (the cost is $1.5 or $3 respectively). Then you will get the opportunity to make unlimited calls within 5 or 10 days. There is a limitation in the number of contacts for calls to be made - up to 50.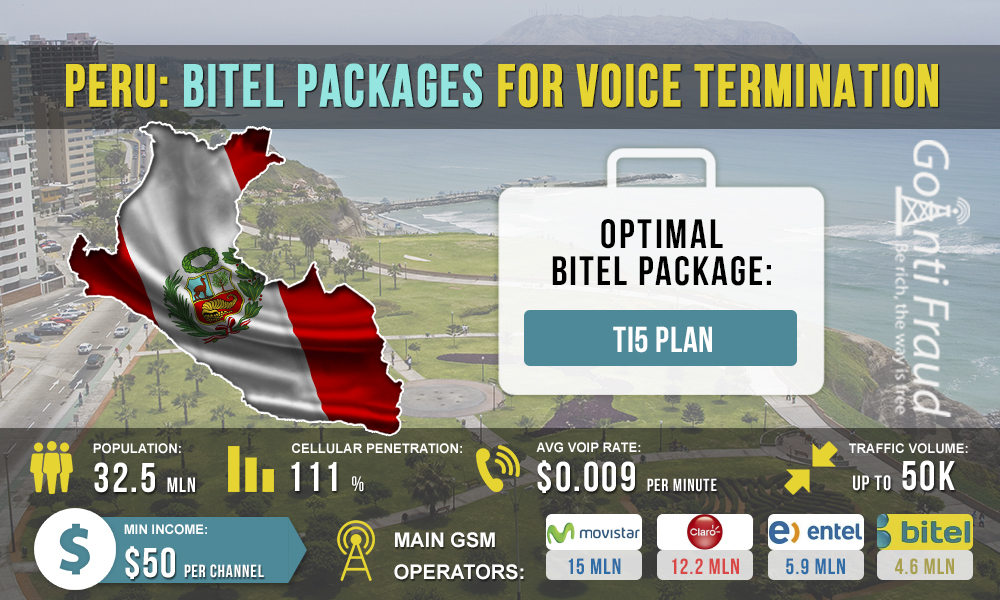 Also, you can use prepaid packages from the Planes iChip range for termination, which are calculated for one month:
S 29.90. Unlimited number of calls to any number for $9, restriction - up to 70 different contacts.
S 39.90. Unlimited number of calls to any number for $12, restriction - up to 80 different contacts.
S 59.90. Unlimited number of calls to any number for $18, restriction - up to 120 different contacts.
The most preferable option will be the Ti5 package, from which the minute of call will cost $0.005. Average voip wholesale termination rates in the direction of Peru will allow you to earn about $50 from one port of equipment. The more gateways you use, the higher your profit will be. Make sure in advance that your traffic provider provides you with sufficient number of calling minutes. Do not know where to find the traffic provider? Ask GoAntiFraud specialists and they will help you in this matter.