Saudi Arabia is a promising country in the Middle East in terms of GSM coverage quality. STC has 19.914 million subscribers. The company was founded in 1998 and has long been the sole representative on the telecommunications market.
This operator will be of the most interest to those who have long been interested in how VoIP works. STC offers a number of packages for unlimited communication. Some of them are for internal corporate use, others for individuals. Alas, for the most part, STC tariff plans do not propose prepaid conditions, which, of course, is not suitable for termination.
The only fully prepaid package is Jawal Business Network Packages. This tariff plan is meant for corporate communication with customers. It involves multiple on-net calls and to other mobile numbers.
VoIP GSM terminators find it the most convenient, since it is difficult for the operator's AntiFraud system to detect, because this tariff package includes a large number of outgoing calls. As a result, if you get your VoIP GSM gateway connected correctly, you can extend the service life of SIM-cards twice as much.
We have developed GoAntiFraud service to improve the efficiency of GSM termination . Proven tools to bypass AntiFraud systems can significantly extend the lifespan of SIM-cards. With our service you can automate routine actions to work with SIM-cards and remotely control all equipment from a single personal account.
Another advantage in Jawal Business Network Packages is that there is no mandatory connection to a group and periodic calls and sending sms within it. The package provides the opportunity to make free calls when connected to a group of subscribers or minimum billing on any GSM numbers, if there are no additional connections. Terminators need to carefully examine these conditions and, of course, select the item that does not require group connections.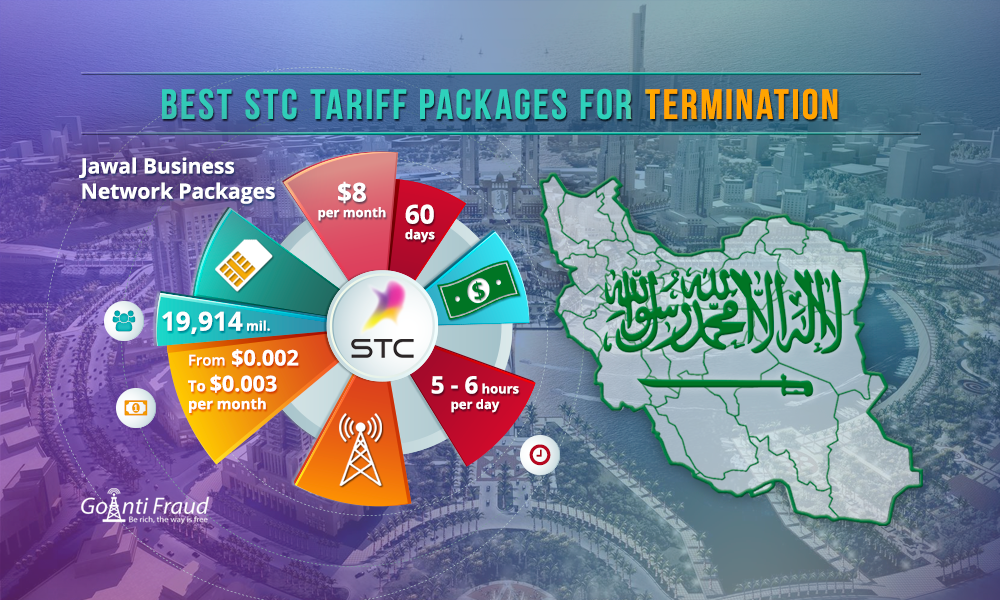 Jawal Business Network Packages costs $8. Since the operator does not pay attention to the numerous calls, a VoIP GSM terminator can use it about 5-7 hours a day, and the net cost of the call would range from $0.002 to $ 0.003 per minute a day.
In addition, STC offers an additional program to improve communication - the multiplication of scores. If the SIM-card has not been locked before it is topped up, you can receive bonuses. And, then, a minute of conversation will be even cheaper. Such conditions make it easy to increase the profit from STC SIM-cards. Jawal Business Network Packages is valid for 60 days. The only condition is to top up the account for $8 and the right choice of functions.
It is important that GoIP setting should be correctly done to protection against AntiFraud systems for successful termination. The GoAntiFraud system offers this option. It will have SIM-cards operating as long as possible and completely automate the VoIP GSM termination.
More about tariff packages Etisalate here.