Etihad Etisalat Company (Mobily) is one of the biggest operators in the world. Etisalat (UAE) operates in more than 17 countries. The company began operations in 2005 and was the first to break up the monopoly of STC in Saudi Arabia. To date, it provides services for over 15 million subscribers in the country.
Demand for traffic termination in Saudi Arabia has considerably increased in recent years. Despite mobile operators' AntiFraud, this activity brings excellent profits; so many terminators begin with the purchase of medium equipment and often search for GoIP 8 price.
The most convenient Etisalat package for VoIP GSM termination is 7ala Plus, in which the operator offers 3 options of payment: 10 SAR ($2.67) for 1 day, 20 SAR ($5.33) - 2 days, and 30 SAR ($8) - 3 days. The bonuses are available, after you top up the account. A minute of conversation would cost a VoIP terminator from $0.008 to $0.006. The cost of the package for 2 days if a SIM-card should operate for 5-6 hours is the same when you top up for 1 day. The advantage of the daily package top-up is that money does not get wasted if there is a SIM-lock.
We have developed GoAntiFraud service to improve the efficiency of GSM termination . Proven tools to bypass AntiFraud systems can significantly extend the lifespan of SIM-cards. With our service you can automate routine actions to work with SIM-cards and remotely control all equipment from a single personal account.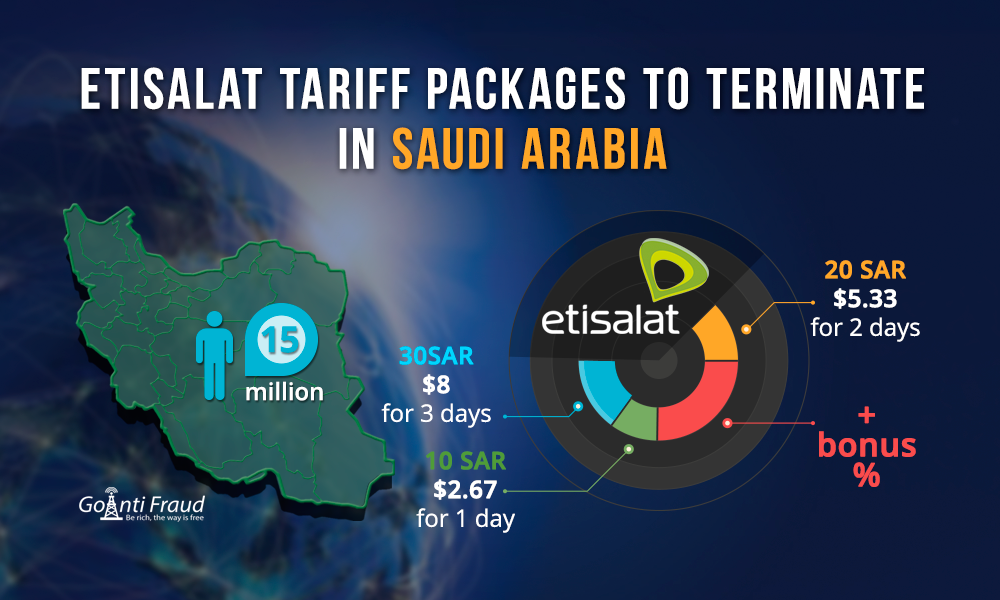 Purchasing the 7ala Plus package from any dealer would be much cheaper than Hala 19 and Mobily Hajj & Umrah. In the latter, despite the fact that the operator provides free 3 SIM-cards for just $8, local calls will cost $0.13 a minute. However, offering favorable tariffs for the termination, the package's target audience is tourists, visitors, travelers, and, therefore, is rather detectable when checked for AntiFraud.
Accordingly, the use 7ala Plus for termination with good volumes in Saudi Arabia is fully justified. Terminators can connect the VoIP GSM gateway and make money off the package without worrying about the SIM-lock, because, in fact, the cards are disposable and you can't lose more than the price of one day of use.
More about the profitable tariff plans Zain here.
NewBusiness solution from GoAntiFraud is your successful start into the GSM termination! We provide ready-business on a turnkey basis, which includes a set of GoIP equipment by EjoinTech or ChinaSkyline, convenient software to computerize the operation and efficient tools to protect the SIM-cards from the lock. We also provide qualified technical support at every stage of your business. Our business model is based on the successful experience of more than 2,000 customers in 31 countries!