Due to troublesome past of the Democratic Republic of the Congo, the country has a poorly developed telecommunications infrastructure and their rates are among the lowest in the region. However, due to poor conditions of fixed-line networks, there are many mobile operators in DR Congo, whose services are very popular among the residents. This is a good precondition for earning on termination, but what is the situation with a stable Internet connectivity for working in this business area in the country?
The Internet services market development and the broadband access in particular are constrained by poor development of the telecommunications infrastructure. Nevertheless, in 2013, DR Congo had been finally connected to high-quality International Network via fiber-optic WACS cable. After that, a national fiber-optic network was deployed, which increased the Internet penetration to 6% (5.13 million connections). However, international bandwidth remains limited, and the Internet rates are quite high.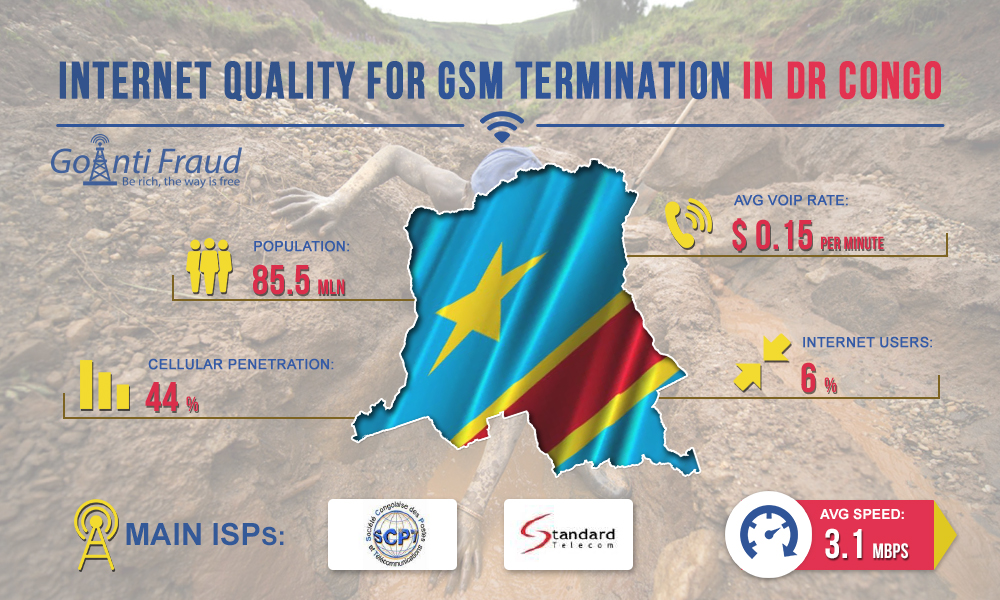 The average Internet speed in the Democratic Republic of the Congo is 3.1 Mbps. But you can connect to the Global Network at a higher speed using the offers of local providers. Among the most popular Internet service providers are SCPT and Standard Telecom. Please remember that for smooth operation of equipment and voip business software, a minimum Internet speed of 5 Mbps is required. The more channels are involved in the termination, the higher the speed should be. Mobile Internet is not suitable for working in this area.