Cameroon is a new promising direction for the termination. Today, one of the largest GSM operator in the country is Orange. The operator offers 6 packages to be topped every 4-7 days. Each package provides different terms and price.
According to estimates, Plenty is an optimum package to terminate for $0.83. The package is valid for one week. With an average lifespan of the SIM-card of one week and a daily 8-hour VoIP GSM termination, the cost of calls in this package will be equal to $0.0004 - $ 0.0002 a minute.
Increase your revenues from GSM termination in Cameroon , using GoAntiFraud! We provide you with proven tools to protect the SIM-cards from the lock and will render professional assistance in setting termination logic, in accordance with the characteristics of your country.
This is less than other tariff plans Plenty Fun and Plenty Smart offer. Using Plenty Fun, the user will have to pay from $1.66 to $8.28 a week, which is much higher if we consider that you can lose a number of minutes because of Orange's AntiFraud-system.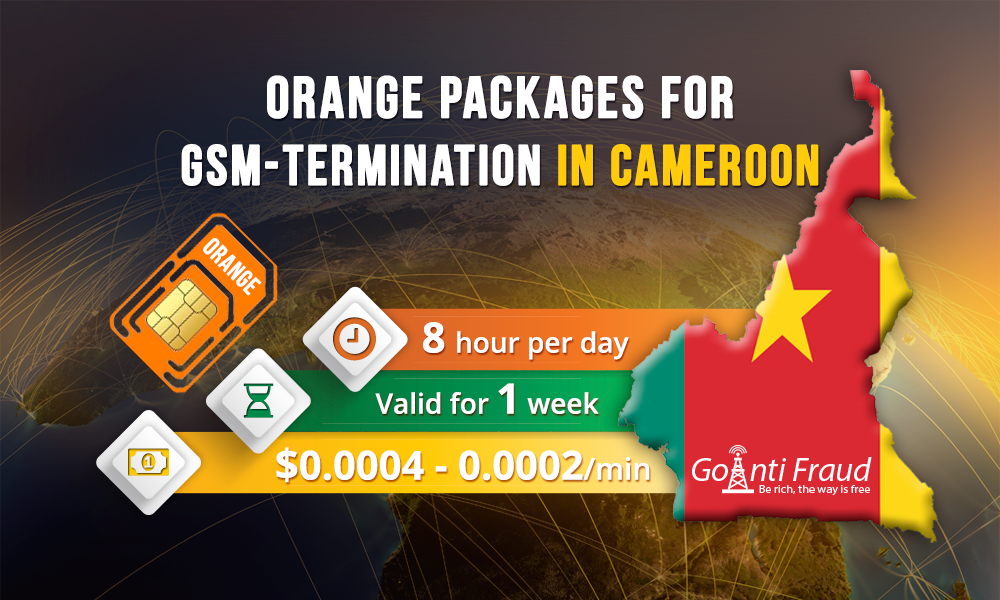 At the same time, if you wisely use Plenty Fun and customize the logic of protection against the SIM-lock, you can ensure that the card operates 5-8 hours for 8 days. As a result, $0.41 a day is charged, which is $0.0013 a minute, if the GoIP-gateway is used.
Such cost is justified because no money is left on the account after a SIM-card is locked, which is not a shame, as in other prepaid packages.
Accordingly, even at the minimum pricing on GSM-communication, you should properly configure the VoIP GSM gateways to protect your cards against the SIM-lock. This is what GoAntiFraud can provide. The service contains the functional, which proposes has humanity settings tools that allow disguising the cards from operators' AntiFraud systems.