Tigo is a brand of Sentel GSM, which was the third operator in the market until 2013. Now it is the main competitor of the leader Orange and has about 3.5 million subscribers. Good GSM coverage and affordable local call rates make Tigo SIM cards the right solution for voice traffic termination in Senegal.
Tigo's start plan is called puce, also known as TIGO Classique. SIM cards are cheap, their cost per piece is about 17 cents. A loan for the same amount is received on your account right away. In fact, your business expenses for the purchase of new cards immediately pay off. TIGO Classique can be bought both in Tigo's shops and from the street dealers. However, to activate the number you need to link the passport number to the card. Therefore, it is better to contact a dealer specializing in the sale of SIM cards issued in somebody's name, for termination.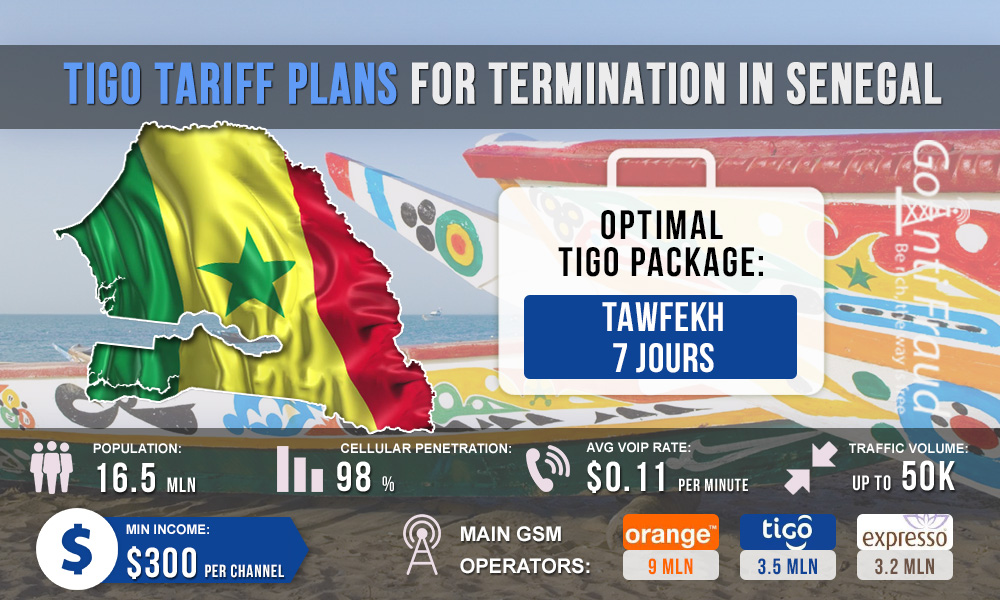 To run a business in the direction of voip termination africa, you need to find a profitable calling plan. Tigo has a profitable offer for prepaid clients - TAWFEKH range. It includes several plans that provide bonus minutes for calls within Tigo network:
TAWFEKH 1 Jour. There are two options available: $0.34 for 60 minutes for calls; $1 for 120 minutes for calls.
TAWFEKH 7 Jours. 240 minutes for calls, price - $3.4.
TAWFEKH 30 Jours. 600 minutes for calls, price - $8.6.
For termination, we recommend connecting TAWFEKH 7 Jours plan. Then a minute of local call will cost you only 1 cent. You will be able to make good money on the difference - with an average rate in Senegal being $0.11, the income will be about $350 from a gateway port.