Orange is the smallest GSM operator in Tunisia. Its market share is about 23%, but the company's subscriber base is growing rapidly. GSM coverage is slightly inferior to that of two main market players - Ooredoo and Tunisie Telecom. Nevertheless, the operator's SIM cards are a good choice for making money on termination in Tunisia, provided you choose optimal tariff plan.
Prepaid SIM cards are available at the operators' shops and are issued free of charge at the international airport of the country from time to time. However, it is better to find a dealer to buy a starting plan for termination. One card costs about $1.65.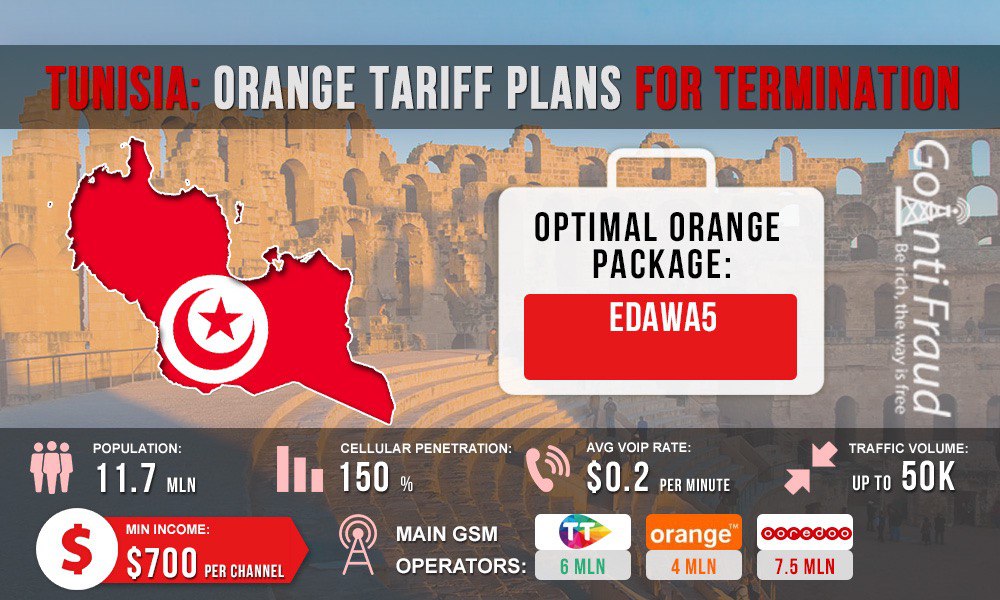 The prepaid range is represented by the following packages:
Edawa5. Calls at $0.01 per minute to all networks 24/7.
Tehabbel. 300% bonus for topping-up; can be used for calls. The cost of a call per minute to any network is $0.07.
Boouj. 100% bonus for topping-up (allocated after using $1.65 for operator services). A minute of call costs $0.03.
Zen Plus. Common tariff for calls to any numbers (mobile and landline): $0.06 per minute.
Supporti Mobile. 1000% bonus for topping-up. Common tariff for calls to any number: $0.13 per minute.
Edawa5 is the most beneficial solution for the operation of SIM-cards in GSM gateways. Given the relatively high voip rates in south africa, your earnings can range from $900 from a single port of equipment. Do not forget that analytic and robot-calling AntiFraud systems are actively working in high-rate countries. Protect your cards against quick blocking with GoAntiFraud.