GSM equipment for termination is the first thing you need to purchase to start a business in this telecom area. Your profit directly depends on the right choice. There are several important requirements for equipment to be used for termination, which we will discuss below.
To terminate voice traffic, you need to purchase two types of equipment: GSM gateway and SIM bank. At the start, one gateway is enough, but as your business expands, you will need to buy a SIM bank in order to work with gateways remotely.
Requirements for GSM gateways:
Stable operation. Your income directly depends on how the gateway works. Unstable equipment operation will cause business downtime.
Relatively low cost. Expensive equipment will be paying off for a long time and in the termination business, you do not need any kind of supernatural gateway. The main point is the availability of the main function - see the next paragraph about this. It does not make sense to pay for additional features.
Functionality The main function of a GSM gateway is to convert calls from VoIP to GSM format. Anything else that a terminator needs is done by special software. A simple but stable gateway in conjunction with professional software is an ideal solution.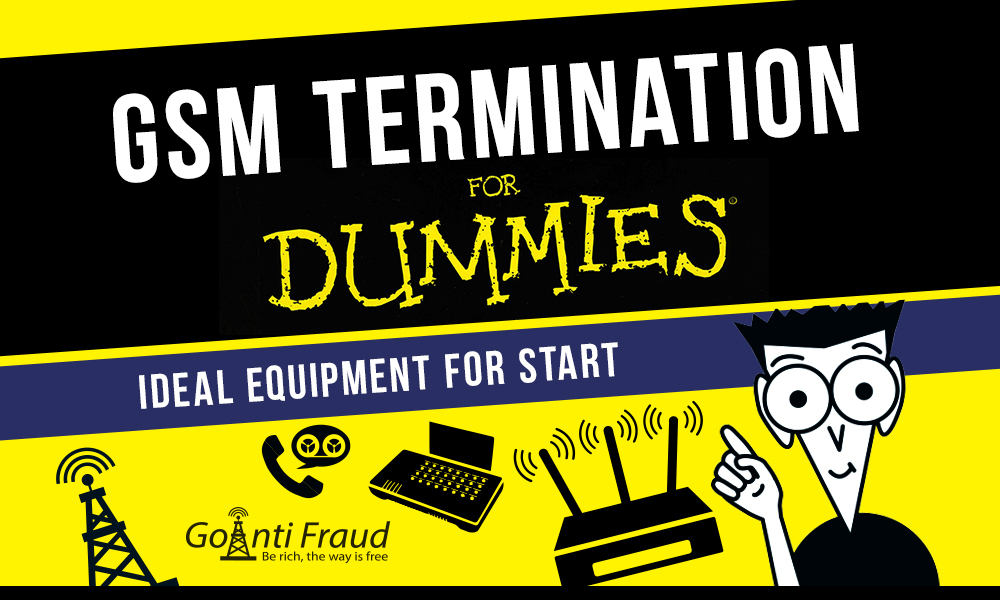 The most popular equipment today among those who land the international traffic is the GoIP gateways. They are stable in operation, which is proven by long time runs. When using them, you will avoid idle runs of your capacities, as happens with many models from other manufacturers. Moreover, GoIP is a low cost equipment, its price is fully consistent with the quality. It's functionality is completely enough for successful termination. GoIP gateways are compatible with the GoAntiFraud service - in conjunction with the software, their functionality is expanded, which allows you to maximize the capabilities of the equipment.
GoIP also produces SIM-banks for 32, 128 and 256 channels. These are the "boxes" for storing a large number of SIM cards in one location and for the remote control of gateways. GSM gateways can be placed in another region, city, country, while physically the SIM-cards will always be at your fingertips. The cards can be virtually downloaded to the gateway channels and unloaded using the voip termination software to transfer the data between devices located in different places. This is necessary in order to simulate human behavior (to minimize the SIM-block), as well as for the terminator's safety. Gateways can be anywhere, and the terminator himself - in a completely different place; at the same time, he or she can control the equipment from anywhere in the world.
It is recommended to use SIM banks and GSM gateways of the same manufacturer.