Emtel is the second GSM operator on the island of Mauritius in terms of the number of subscriber connections. Its 2G coverage is the same as that of my.t, the market leader, so you will find a steady signal in almost any area. At the same time, the rates for voice communication in Emtel are slightly lower than those of its main competitor, therefore its SIM cards can be a profitable solution for making money on termination.
Emtel's SIM-cards cost $2.85 each, a sum of $ 2.48 is immediately received on your account and you can use 250 SMS's of the welcome bonus. In fact, you get SIM cards almost for free, because their expenses are covered by the welcome loan. Emtel's starting plans are sold not only in the operator's stores, but also in all-day shops, however, you are required to present a passport to register your SIM card. It is better to agree with someone to buy SIM-cards for you. You can find a supplier of new cards on a dedicated online forum or in social networks.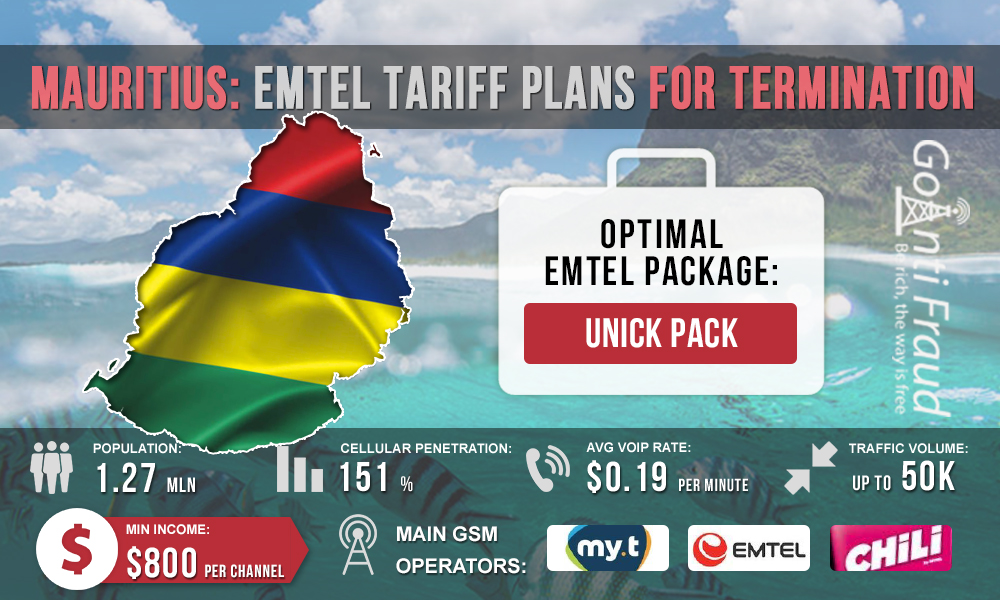 For customers who buy prepaid SIM cards, there are many beneficial package deals. Let's discuss the most suitable tariff plans in terms of termination:
Unik Pack. A minute of a call to any number will cost $0.029. Connection fee —$1.28.
MyMixPack. Provides 85 minutes for calls, the cost of connection is $2.43.
Yolo15. Provides 15 minutes for calls, the cost of connection is $0.43.
The best choice for the operation of voip gateway hardware is an Emtel SIM card with a connected Unik Pack tariff plan. Working with this package, you will earn at least $ 1,000 from the channel (given that the gateways will run for approximately five hours a day).