Claro is the market leader in the Dominican Republic. The operator has the best coverage in the country, it owns more than 55% of subscribers. At the same time, Claro has the highest call prices. Using the SIM-card of this operator is beneficial, considering that it is this very operator who transfers the largest amount of traffic in the Dominican Republic. At the same time, it is important to choose the most profitable tariff plan from Claro in order to make good money on landing international VoIP traffic.
Prepaid SIM cards are sold not only in the operator's stores but also in the streets. However, the merchants sell unregistered cards that can be quickly blocked. Therefore, it is still better to find a reliable supplier of starting plans registered in someone's name. The price of a SIM card is about $3, while $1.19 is immediately transferred to your account as a welcome bonus. For the first replenishment of the balance, the subscriber also receives a bonus of almost $3.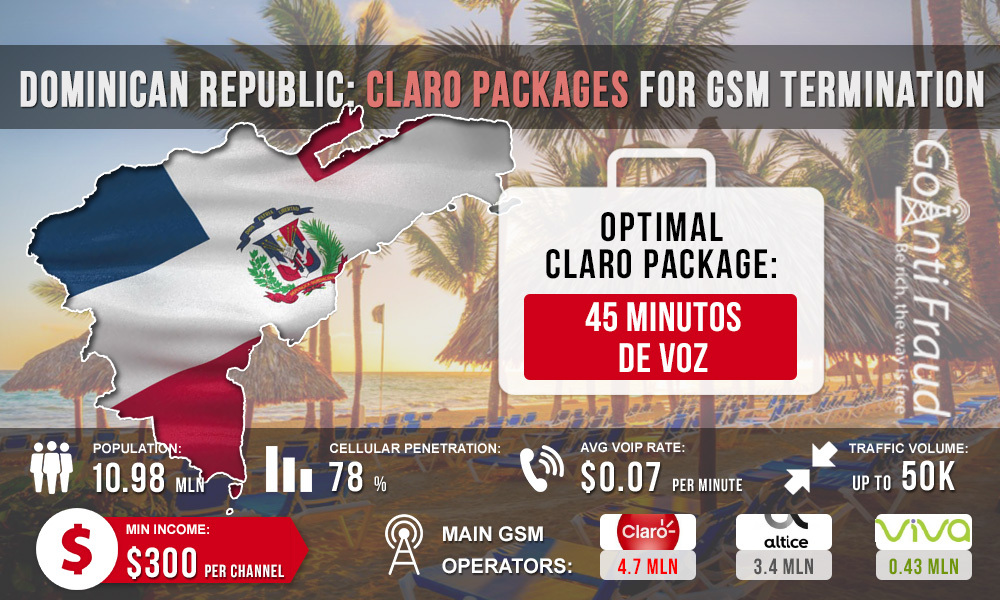 By default, the starting plan is connected to the Prepago Regular tariff plan. It provides a call tariff of $0.12 per minute. One can also activate the Prepago 365 Basico tariff plan for free, with this plan the per minute price will be $0.11. Prepago 365 Basico provides a welcome bonus of $2.37 in case of transition.
Claro also has several calling plans. The most suitable one for termination is 45 Minutos de Voz. The connection fee is $5.25; the subscriber gets 45 minutes to call to any numbers. If you add on all the welcome bonuses, you can save on connecting the 45 Minutos de Voz plan. It will cost only $1.69. Thus, when using gsm gateway kaufen for 45 minutes a day, your income will be about $50 per channel. This is an approximate calculation; you can work with a large number of channels and maintain their operation for 8-10 hours a day. Accordingly, your profit will be much higher.