Altice Group is a Dutch company that acquired Orange in the Dominican Republic and merged it with Tricom. Thus, a new GSM operator appeared on the country's market - Altice Dominicana. This is the second largest mobile operator in the Dominican Republic by the number of active subscribers and it has excellent GSM coverage. To use Altice SIM cards for GSM termination, it is important to choose a tariff plan with the most favorable conditions.
Altice's SIM card is called SIMO PREPAGO and you can buy it both in brand stores and on the streets from local merchants. The price of the starting plan is $1.98, while an initial loan of $0.6 valid for 7 days becomes available on your account.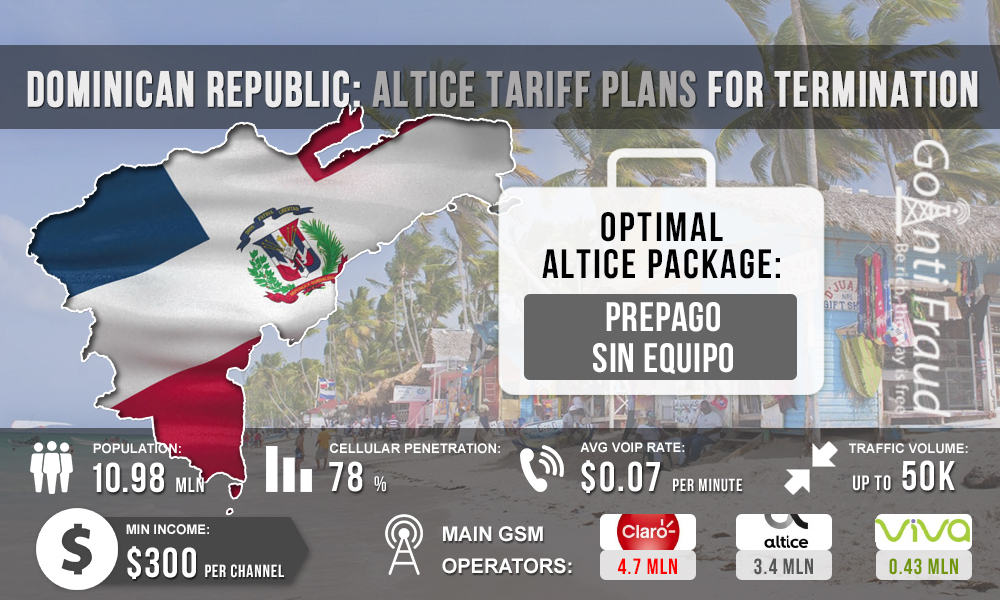 Altice has several offers for prepaid subscribers:
Prepago Plan Si Equipo. Activation cost - $ 1.98. The subscriber gets 200 minutes for calls to Altice's numbers.
Tus Recargas. By topping-up his balance in the amount of $1.98, the subscriber is provided with 50 minutes to make calls within Altice network.
Illimitado Apps. Provides bonus minutes for calls, mobile Internet traffic and unlimited use of applications. There are two options: 100 min and 200 min. In the first case, the subscriber receives 100 minutes for calls, the price is $7.9. In the second case, the subscriber receives 200 minutes for calls, the price is $11.85.
For using SIM cards with voip hardware for home, we recommend that you give preference to Prepago Plan Si Equipo. With this plan, the price per minute of call will be about $0.009. Thus, the terminator's earnings can make 200 dollars and more from each gateway.