GSM voice traffic termination can be very profitable - it all depends on the country you choose to work in, availability of technical support and the level of SIM-cards protection from SIM-blocking. Competent business management allows you to earn at least $ 2K per month and this is a conservatively low figure. However, as a future entrepreneur, you must understand that to make a profit, you need to make investments first. Let's discuss the list of the main costs at the start of the GSM termination business.
So, to successfully organize your international calls landing business you will need the following:
GSM gateways and SIM banks. The minimum equipment you need to start is one GSM gateway and one SIM bank. The GSM gateway is the very thing you need to convert international calls from GSM to VoIP format, in order to land them at local rates. The SIM bank allows storing a large number of SIM cards in one location remotely from the gateways and virtually operate them (to simulate human behavior and thereby reduce the percentage of the SIM blocking).
Professional Software Software is needed to simulate the real subscriber behavior and to automate many work-flows. Without it, you will not be able to effectively simulate the movement of SIM-cards around the city, generate incoming traffic, set pauses between calls on gateways, etc.; and your cards will get blocked quickly. In addition, the software allows you save time - for example, by automatic topping-up.
New SIM cards. You will need a lot of cards for the gateways. Even with the reduced percentage of SIM-blocking, the cards will still be getting blocked - this can not be 100-percent avoided. To avoid idle run of your capacities, it is important to install new cards in the gateway slots timely.
Raspberry Pi3. This device is needed for two things: compressing the Internet data and thereby improving the network bandwidth and hiding your activity in the Internet from the provider.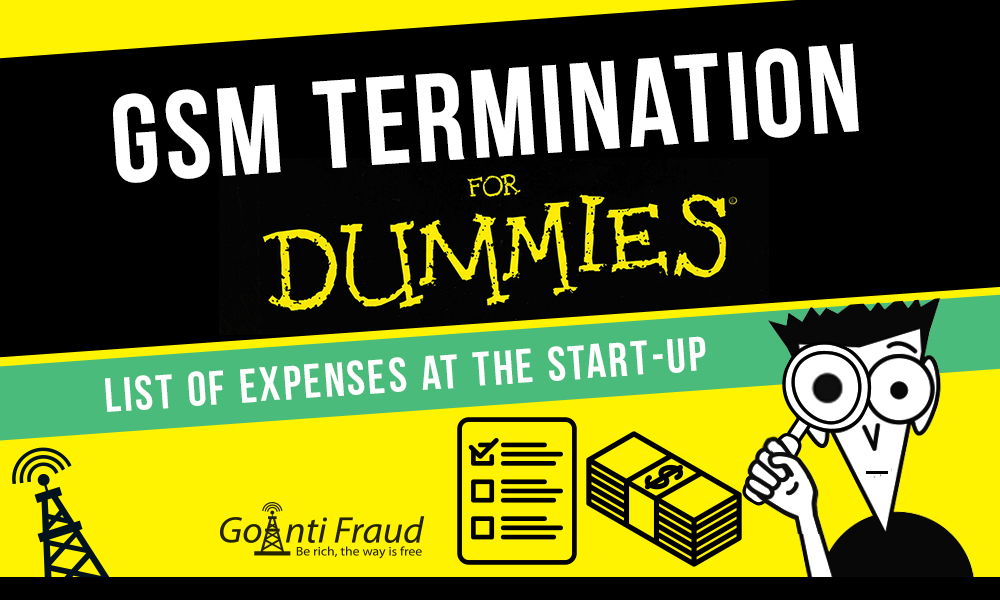 Room for equipment. The gateways need to be placed somewhere. Under no circumstances should you locate them in the place you live or work, because this business is illegal in all countries. Therefore, you need to rent a room - an apartment, a kiosk or an office.
Stable Internet. You need Internet to operate your equipment. The main requirements for it are stability and sufficient speed. The smooth operation of each jual gsm gateway channel requires a speed of 42 Kbps.
Electricity. You need it to run the gateways and the router, it should also be added to your list of expenses.
Normally, the total startup cost would be about $3K The cost of software and a set of equipment starts at $2K GoAntiFraud offers turnkey solutions for the beginners in the NewBusiness line. In addition to the gateways, SIM-banks and software, NewBusiness packages provide 24/7 technical support. Your investment will pay off in just a few months.