Alfa is Lebanon's second mobile operator in terms of subscriber base. About one third of all subscribers of the country use its services. As well as Touch, the market leader, Alfa is a state owned company. This operator has good GSM coverage and a wide choice of prepaid offers. You can successfully use its SIM-cards to earn money on termination by choosing a profitable package for calls.
The cost of one Alfa starting plan is $3 and you immediately get the same amount on your balance. The welcome bonus is valid for 5 days. Thus, your expenses for buying the cards are fully compensated. By default, SIM cards are connected to ALFA PREPAID tariff plan. A minute of call in this package costs 25 cents in rush hours (08:00 am to 10:00 pm) and 15 cents for the rest of the day (10:00 pm to 08:00 am). This is expensive for traffic termination, with the best voip rates lebanon making up to $0.09 per minute. However, other prepaid offers are available.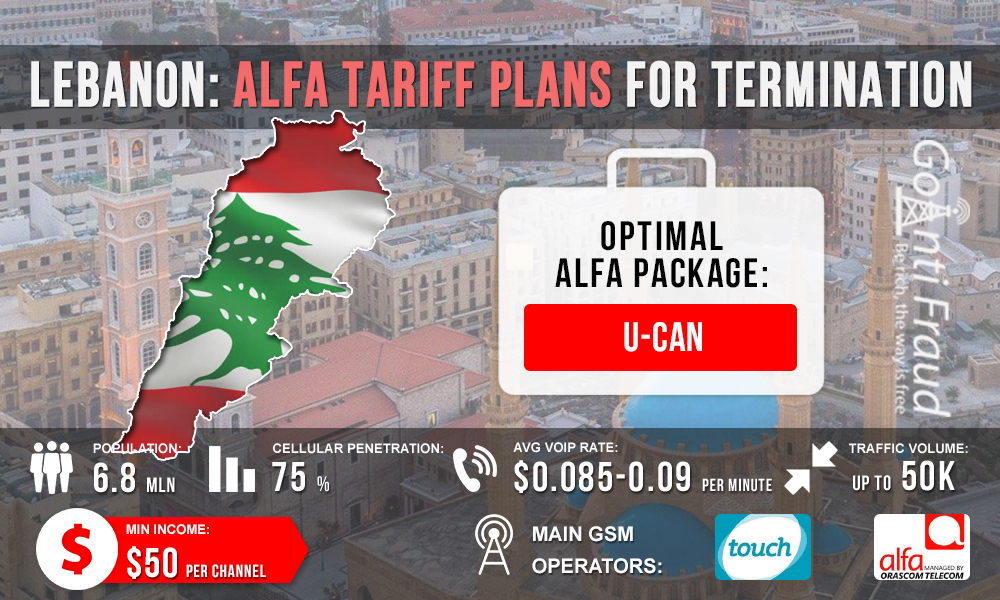 For termination, you can use the following packages:
U-CHAT. Provides 30 minutes for calls, the cost is $9.
ALFA A+. Provides 180 minutes for calls, the cost is $15.
U-CAN. Provides 120 minutes for calls, the cost is $10.
The U-CAN tariff plan is the best option for SIM-cards operation. With this package, the price per minute of an outgoing call will be about 8 cents. Thus, your earnings will be $30-50 and higher from each GSM channel, it all depends on the volume of terminated traffic. The more international minutes you land, the higher is your income.