A new product from Hybertone appeared on the GSM termination equipment market - VoIP GSM 4G gateways. This equipment supports 4G LTE networks. New GoIP gateways can be successfully used for efficient voice traffic termination.
Two models of 4G gateways are currently available - GOIP 8-4G and GoIP 32-4X-4G. The equipment is compatible with FDD-LTE, TDD-LTE, GSM, CDMA and WCDMA networks. GOIP 8-4G Gateway is an updated model of the popular 8-channels gateway and has a distinctive feature - support for 4G LTE networks. The model provides 8 slots for 8 SIM cards and is designed for 8 GSM channels (that is, the gateway can make up to 8 calls at a time). GoIP 8-4G operates on the basis of SIP 2.0 protocol.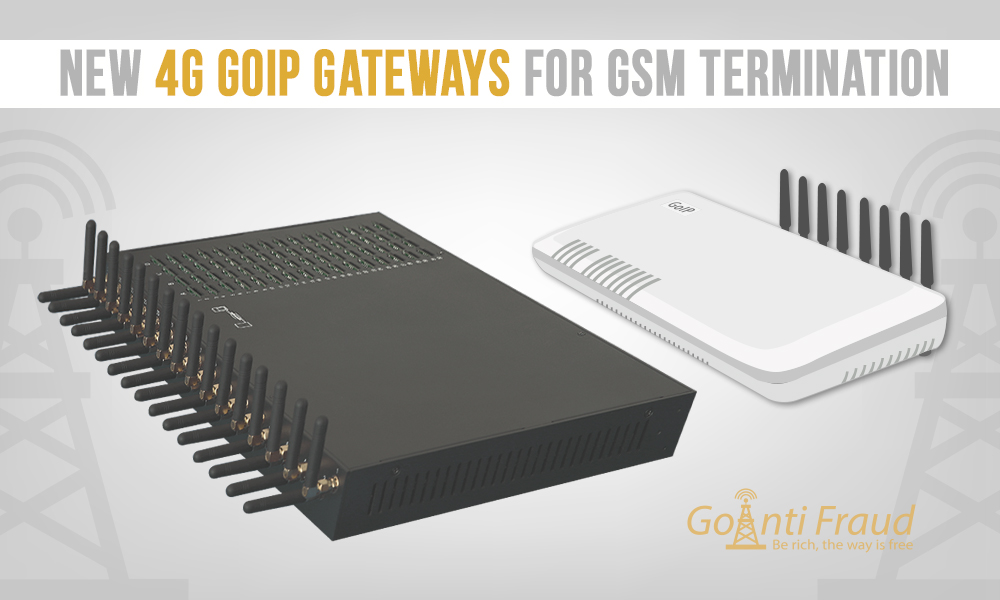 Another new product from Hybertone is GoIP 32-4X-4G, it is the gateway with 32 ports and 128 SIM cards. A distinctive feature of this model is the SIM-cards rotation function. 4 SIM cards can work by turns in each channel. GoIP 32-4X-4G is a multifunctional VoIP GSM gateway which combines the features of a gateway and a SIM box. The gateway can make up to 32 calls in parallel, while up to 128 SIM cards can be stored in it. The rotation feature allows using the GSM termination equipment with maximum productivity. The GoIP 32-4X-4G model supports the remote control function, which provides convenient operation and significantly saves time.
The GOIP 8-4G and GoIP 32-4X-4G gateways are compatible with the GoAntiFraud service developed for efficient work in GSM termination. Using the GoAntiFraud capabilities in conjunction with the GoIP GSM gateway that supports 4G, the user can automate many work processes (quickly load new SIM cards into channels, top up his/her SIM cards remotely, etc.), minimize card blocking by AntiFraud systems, and reduce the consumption of Internet traffic. You can buy GOIP 8-4G and GoIP 32-4X-4G from us at the manufacturer's price.