Plus is a brand of the Polish company Polkomtel. This is the third GSM operator in the Polish market, it owns a little less than 25% of the country's entire subscriber base. All four major operators have almost the same market share and good GSM coverage, so each SIM card can be successfully used for GSM termination. If you chose Play, it is important to choose the most favorable tariff plan for outgoing calls.
Play's starting plans are sold in the company stores as well as at gas stations, kiosks and other retail outlets. But you will be asked to present your ID for registering a prepaid SIM card. Therefore, we recommend that you make advance arrangements with a dealer who will deliver you the cards already registered to someone else's name. The cost of one Play's SIM-card is 5 zł, that is approximately $1.3.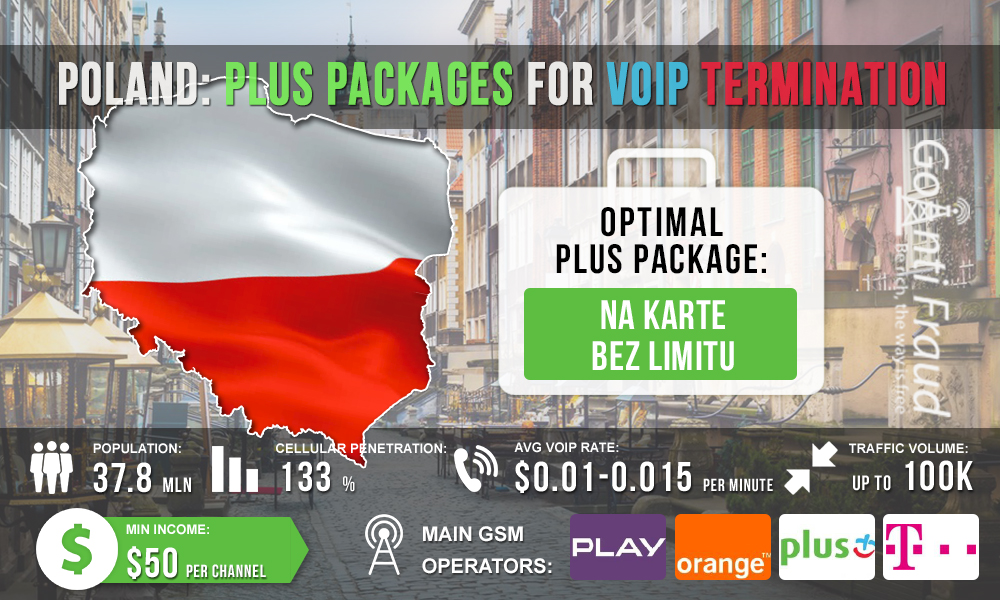 The prepaid offer is called Play na Karte. The following starting plans are available:
Bez limitu. After activating the SIM card, you need to connect one of the two proposed tariff plans. The best option is 0 zł for 3 months. It provides unlimited calls and SMS, connection is free for a period of 3 months. Then the cost of the subscription will be $5.2 per month.
Prosto na Karte. After activating the SIM card, it is necessary to replenish the account in the amount of 25 zlotys ($6.5). After that, you will get the opportunity to use unlimited calls and SMS. In this case, the money will remain on your account balance.
The best business option for voip termination is the Play na Karte Bez limitu starting plan. By connecting the unlimited package for free and terminating for 400 minutes a day, you will ensure the cost of a minute of a call of $ 0.003. The minimum income will be $ 50 from each port of the GSM gateway.