Vodafone is the mobile market leader in the Republic of Fiji. Until 2008, it was the only GSM operator in the country until its competitor Digicel emerged. At the moment, Vodafone has the best GSM coverage, which covers almost the entire territory of Fiji, even remote islands. Vodafone has higher prices for services, so if you want to use its SIM cards for voice traffic termination, you need to choose a profitable tariff plan.
Vodafone's prepaid SIM-cards are available both at the operator stores and in other outlets of the islands. The start plans can also be bought at the airport. Often SIM cards are provided free of charge as part of promotions. The standard cost of one starting plan is about $2. There are 3 options for SIM cards specifically for tourists - they can be bought by foreigners. They differ in price, depending on welcome bonuses:
For $16, with an initial loan of $11.5 and 35 MB of Internet traffic.
For $32, with an initial loan of $23 and 60 MB of Internet traffic.
For $46, with an initial loan of $34.5 and 90 MB of Internet traffic.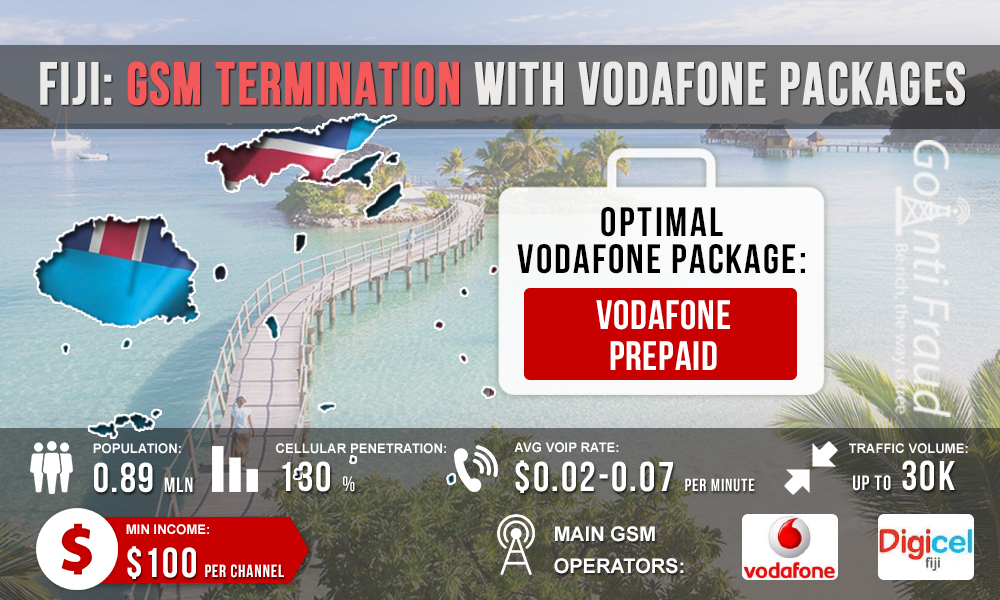 As you can see, the offers for tourists are expensive; you'd better find someone in Fiji who will regularly supply you with a large amount of standard SIM cards.
The standard tariff for calls from Vodafone is $0.09 per minute. This is expensive considering the average rate for voip call termination of 2-7 cents. From time to time, Vodafone has special offers that allow making the cheapest calls. But currently there are no such offers on the Vodafone website. If you want to use the cards of this operator for termination, watch out for promotions from them.