Airtel is a popular GSM operator in Nigeria. It owns more than 21% of the total number of mobile connections in the country. The operator offers advantageous packages for prepaid subscribers, it also sells SIM cards. You can use Airtel SIM cards for profitable voice termination in Nigeria.
Airtel's SIM card costs about 83 cents, and a welcome bonus for the same amount that you can use for calls is immediately available on your account balance. Thus, your expenses on the purchase of new SIM-cards pay off every time.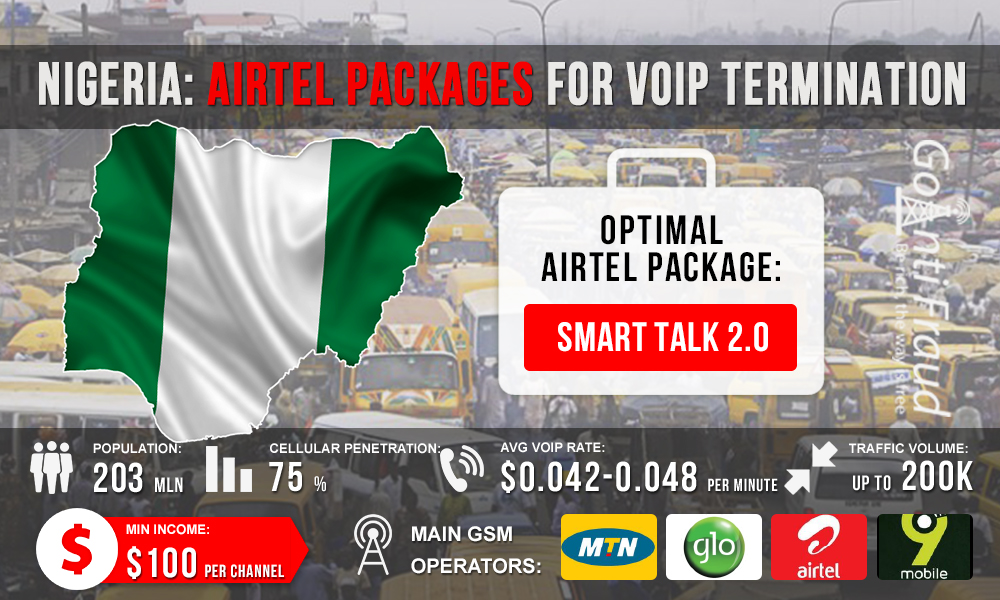 For prepaid subscribers, Airtel has a lot of profitable offers. Let's dwell upon the most suitable ones for calls termination:
SmartTalk 2.0. Calls to all networks at $0.018 per minute. Connection fee — $0.019, duration — 1 day.
All you need in One. There are two options for this tariff plan: Smart Premier Platinum и Smart Premier Platinum Plus. The first one costs $13.8, provides 500 minutes for calls, 500 SMS, 3 GB of mobile Internet traffic. The second one costs $ 27.7, provides 1000 minutes for calls, 1000 SMS, 6 GB of mobile Internet traffic.
Smart Value. Calls to all networks at $0.025 per minute. No connection fee.
6xBundles. Bonus for every topping-up - the amount you top up increases sixfold.
SmartTalk 2.0 will be a good solution for voip wholesale sip termination. The terminator's monthly earnings can make 150 dollars and more from each equipment channel. To get a high profit, it is important to protect your SIM cards from fast blocking - for this, use the GoAntiFraud service tools.