CNT is Ecuador's state-owned GSM operator, the third largest in the country. CNT's GSM coverage is somewhat limited when compared with Claro and Movistar, so it is better to place gateways in large settlements. Nevertheless, its starting plans are quite suitable for a profitable business. When buying this operator's SIM card for traffic termination, it is important to choose a package with the most favorable conditions for calls.
CNT's prepaid SIM cards are called Prepago Plus and are sold in company stores and other retail outlets throughout the country. The cost of one starting plan is $4, and a welcome bonus for the same amount is immediately available to the subscriber. So, the costs of buying the card are compensated to the entrepreneur. Bonus money can be used to connect a suitable tariff plan.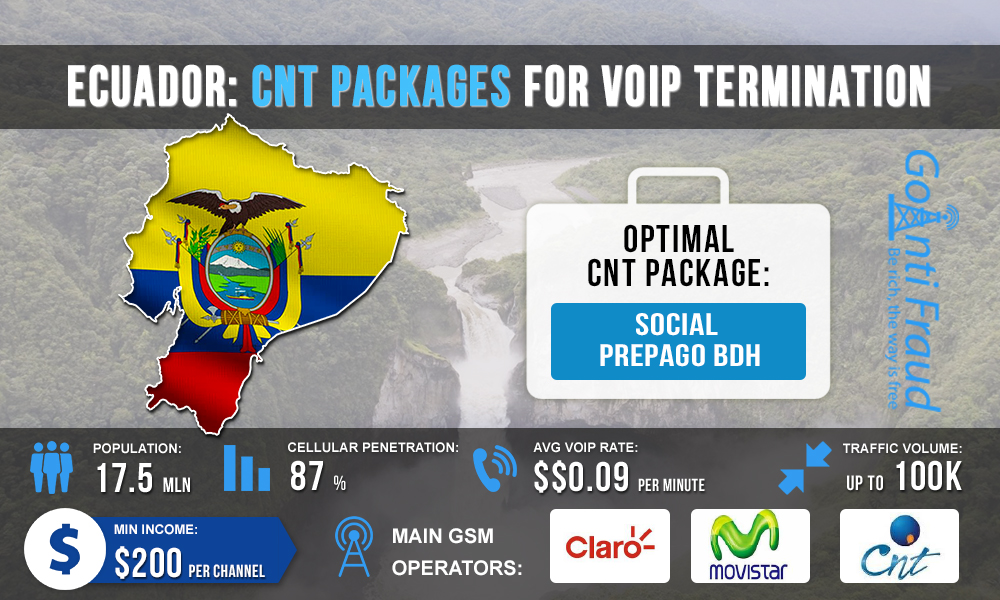 Let's consider the most suitable packages for termination from the prepaid subscribers' packages:
Nuevo Plan Prepago. Cost - $5.6. The subscriber is provided with 30 minutes bonus for calls. The further rate for outgoing calls is $0.1 per minute.
Social Prepago BDH. Cost - $3.36. The tariff for outgoing calls is $0.0448 per minute.
Social Prepago BDH is most suitable for traffic landing. You can pay for connecting the package with the welcome bonus that the subscriber receives when activating the SIM card. Thus, the terminator's earnings will be at least $250 (from each goip voip gateway gsm converter sip port). The more traffic you land, the higher the profit will be.