In addition to the main GSM operators, Ecuador has virtual mobile service providers (MVNOs). At the moment, only Tuenti, the first local MVNO, operates in the country. Earlier it was announced that another virtual operator Virgin Mobile will appear on the market soon. MVNO SIM cards can also be used to profitably terminate traffic.
Ecuador's only (as of today) virtual GSM operator, Tuenti, uses the Movistar network to provide services. Its SIM cards are sold in supermarkets, pharmacies and gas stations throughout the country. The cost of one starting plan is $5 and the subscriber can immediately use the welcome bonus in the form of 15 minutes for calls and 50 SMS.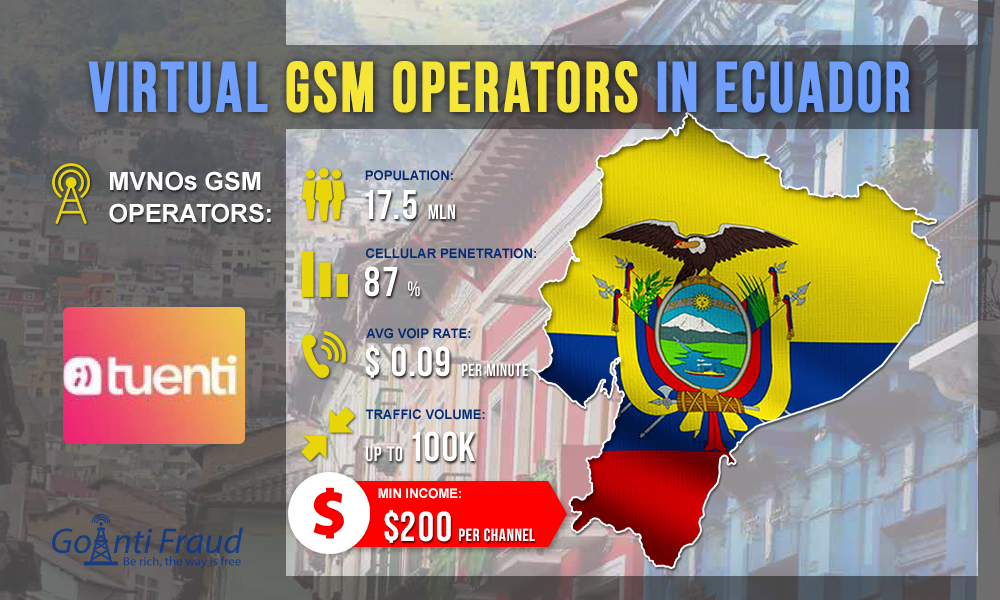 For prepaid clients, all-inclusive COMBO PLANS packages are available, which include minutes for calls, SMS and mobile Internet traffic. Three following options are available:
30 min + 750 MB + 50 SMS. Connection fee — $5.
80 min + 3 GB + 50 SMS. Connection fee — $10.
200 min + 7 GB + 50 SMS. Connection fee — $20.
Each package provides unlimited calls within the Tuenti network. The minutes in the framework of tariff plans are designed for calls to any network in Ecuador, Canada, USA, Italy and Mexico. The validity period of all COMBO packages is 30 days.
For calls within the network, the best option is COMBO PLAN 30 MIN. With this package, the minute of a call will cost $0.016 (if the gateway runs for 300 minutes day). Thus, voip business in Ecuador can generate revenue of about $300 from each equipment port.