MTN is Uganda's mobile communications sector leader; it owns about half of all subscribers in the country. The operator has the best 2G and 3G coverage. SIM cards are cheap and offer welcome bonuses; local cellular communication is also inexpensive. If you choose the right tariff plan, you can make good money on voice termination in Uganda with MTN cards.
MTN's prepaid SIM cards are sold at operator's stores and other retail outlets, as well as by street vendors. The cost of the starting plan is only $0.55, while a welcome bonus of $0.14 is immediately received on your account balance. It can be used to connect any tariff plan. SIM cards in Uganda are subject to mandatory registration. Therefore, we recommend make an arrangement with someone who will supply you with the cards registered to other people.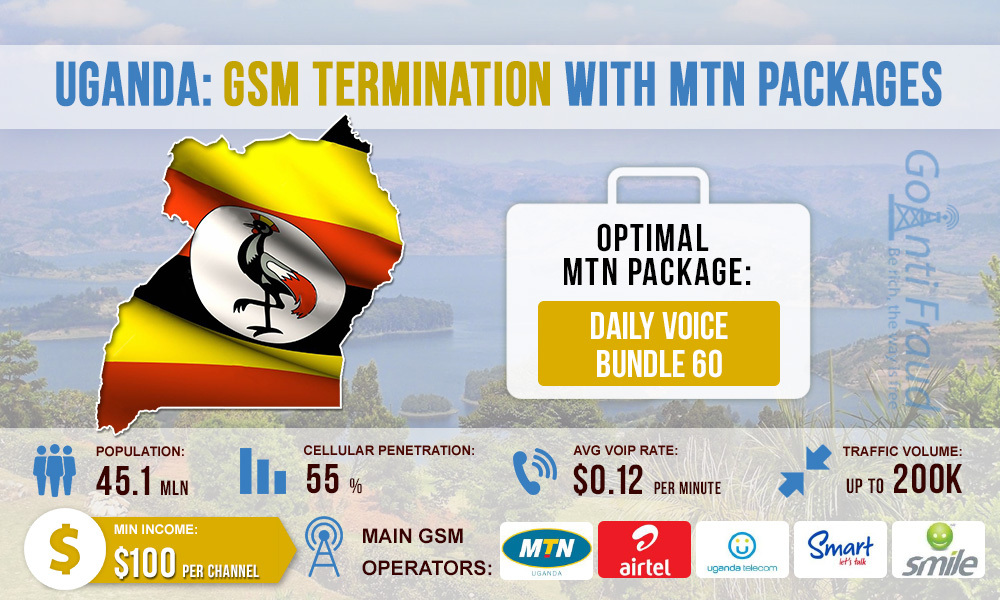 MTN's prepaid line includes a large number of offers; from the point of view of termination, the most suitable one is the Daily Voice Bundles. This range includes the following packages:
6 min. Price: $0.14. Provides 6 minutes for calls.
10 min. Price: $.19. Provides 10 minutes for calls.
20 min. Price: $0.27. Provides 20 minutes for calls.
60 min. Price - $0.55. Provides 60 minutes for calls.
Daily Voice Bundle 60 is suitable for profitable termination. With this package, the price per minute of call will be only $0.009. The terminator's earnings will be at least $100 from one gsm gateway dinstar or other VoIP equipment channel (taking into account the cost of buying new SIM-cards).