NetOne is the second largest mobile operator in Zimbabwe. It is the fastest growing service provider in the country, as it offers low call rates. GSM coverage is slightly worse than that of the market leader Econet, but it covers most of the population. NetOne SIM cards can be a good choice for traffic termination, if you choose the most suitable tariff plan.
NetOne's prepaid SIM cards are inexpensive - 50 cents apiece in the operator's stores and other retail outlets. You can also buy starting plans from street vendors - they may cost a little more, but you will not be asked for identity documents. However, if you do not register the cards, they can quickly get blocked. Therefore, it is worth finding someone in Zimbabwe to supply you prepaid SIM cards issued to third parties on a regular basis. You can find suppliers in dedicated online forums, in social networks, etc.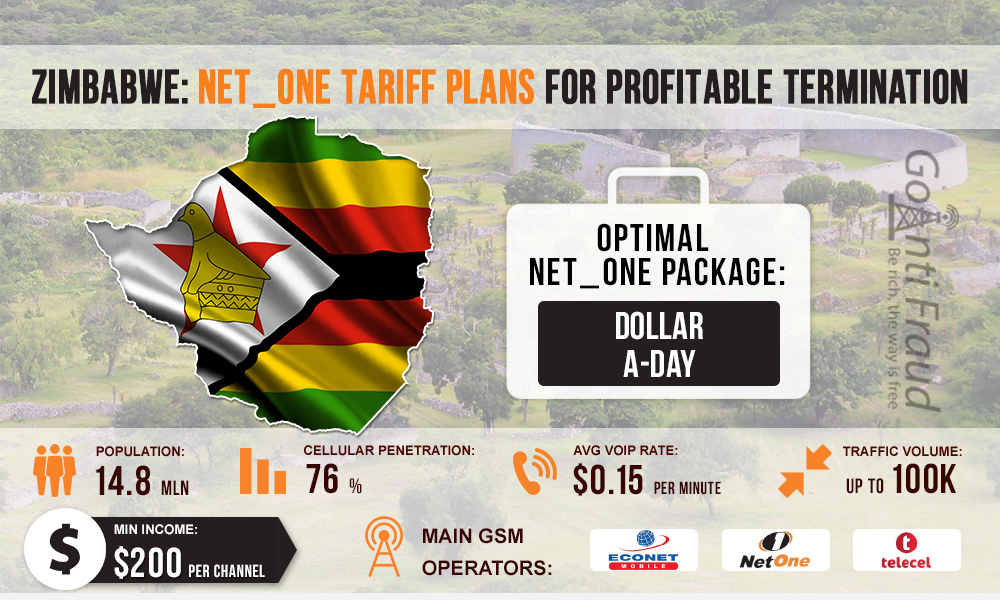 Having bought the SIM cards, you need to choose the most profitable package for calls. NetOne has several offers for prepaid customers. They include:
Khuluma 24/7. The tariff plan is presented in three options: 6 min ($5), 14 min ($10), 30 min ($20).
Dollar-A-Day. Provides 120 minutes for calls for $4 per day.
Dollar-A-Day is a cost-effective solution for call termination system. With this package, a minute of a call will cost $0.03. Terminating the traffic for 120 minutes a day, you can earn about $250 from each equipment port. The more minutes you land, the higher is your income.