UT Mobile is the third mobile network in Uganda by the number of connected subscribers. The GSM coverage of this operator is quite good and covers most of the country. Inexpensive SIM cards and moderate call tariffs make UT Mobile a good choice for earning on termination.
UT Mobile's SIM cards are sold at operator's stores and other retail outlets, as well as by street vendors. The price for a starting package is below 1 dollar. Please remember that you have to register SIM cards by law in Uganda, therefore, make an advance arrangement with someone on the regular supply of a large amount of starting packages registered to third parties.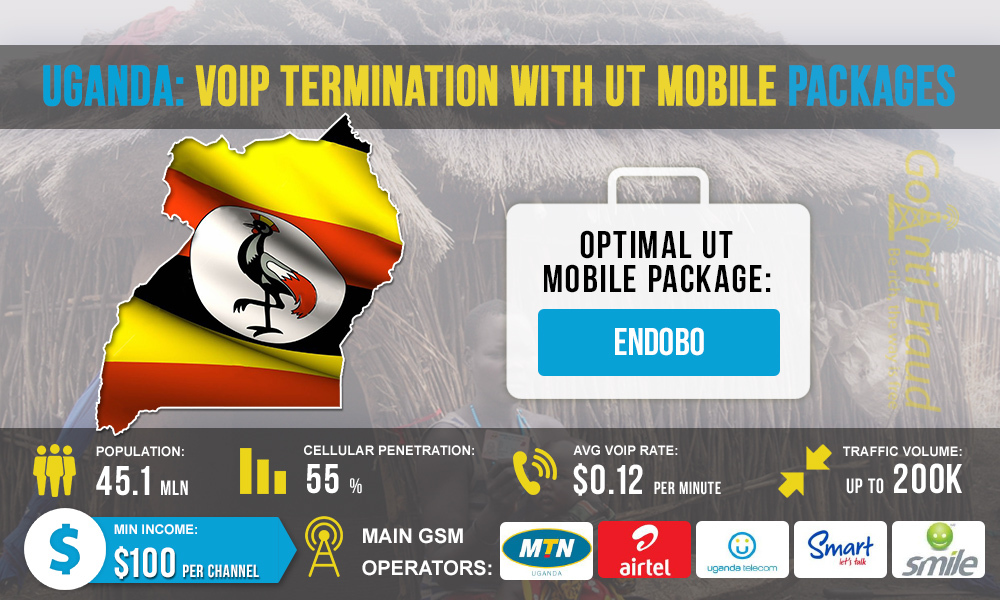 Prepaid customers can use several offers. Let's discuss the most suitable options for termination:
Endobo. The packages provides for unlimited amount of calls and SMS. Duration - 24 hours. Connection fee — $0.27.
Bonga Forever Ever. Provides a bonus for the first topping-up. Topping up for the amount of $0.14 to $1.36 gives you a bonus of 20%. Topping up for the amount of $2.73 to $5.46 gives you a bonus of 50%. Topping up for the amount of $13.65 to $27.3 gives you a bonus of 100%.
The Endobo package is the best suited for earning money by voice traffic landing. With this offer, a minute of the call will cost the terminator about $0.001 (with the gsm cellular gateway running for 200 minutes a day). Thus, by using this tariff plan, the entrepreneur's profit can start from $450 from each GSM gateway channel.