Airtel is the second largest operator in the GSM market communication in Zambia, its services are used by about 40% of all subscribers of the country. Airtel coverage is available in all 72 regions. This operator's SIM cards will be a good choice for VoIP traffic termination, if you choose a profitable tariff plan.
Airtel's SIM cards cost $0.32 apiece at a company store. If you buy cards from the street vendors, they will come out more expensive, but you do not need to present your ID for registration. Make sure you register the phone numbers for someone else, otherwise they will quickly get blocked. As a bonus, the operator gives new customers 15 minutes for calls after the first topping-up.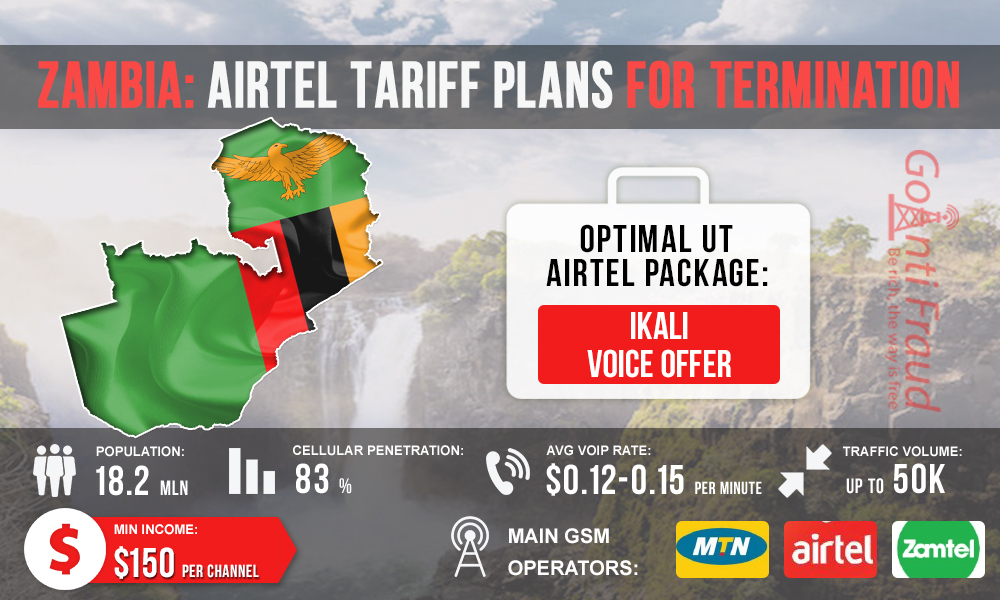 Prepaid subscribers can take advantage of the following offers:
Freedom New. Provides a tariff for calls to all networks at $0.064 per minute. For some time, this tariff plan is connected by default to all Airtel SIM-cards, so you do not have to pay anything to connect it.
Ikali Voice Offer. Bonus range. Includes a large number of bonus offers in the form of minutes for calls. The most suitable for termination are: 60 minutes for $0.45, 112 minutes for $0.64, 135 minutes for $0.96 and 150 minutes for $1.91.
The optimal choice for the effective operation of the gsm voip gateway goip 1is Ikali Voice Offer. With this plan, the price per minute of call will be about $0.005. The terminator's profit will be $200 per a gateway port. But even using the standard Freedom New tariff plan, you can earn great money. Choose a package for calls based on the amount of traffic you land daily.