Today you can start an online business instead of a traditional business, which allows you to run it all remotely. To run a business like that, there is no need to leave home, you can work and monitor the work processes from anywhere in the world. Now, during the COVID-19 pandemic, this is especially true, because many traditional types of businesses suffer losses or even burn out due to quarantine. We have prepared several business ideas for you to start your own business remotely.
Pros of Remote Business
Minimum business expenses. In most cases, you will not need an office for which you need to pay an impressive rent, storage facilities, etc.
Flexible working hours. You determine at your own discretion, how much you need to work and on what days.
Ability to combine with other work. A remote business can generate revenue in parallel with your main job, which you do not have to put aside.
Safety. A remote business does not involve physical contacts with other people, which means it reduces the risk of getting COVID-19.
Confidence in future. Even if hard quarantine is enforced again and nothing works, you will benefit by providing your services remotely and making money on it.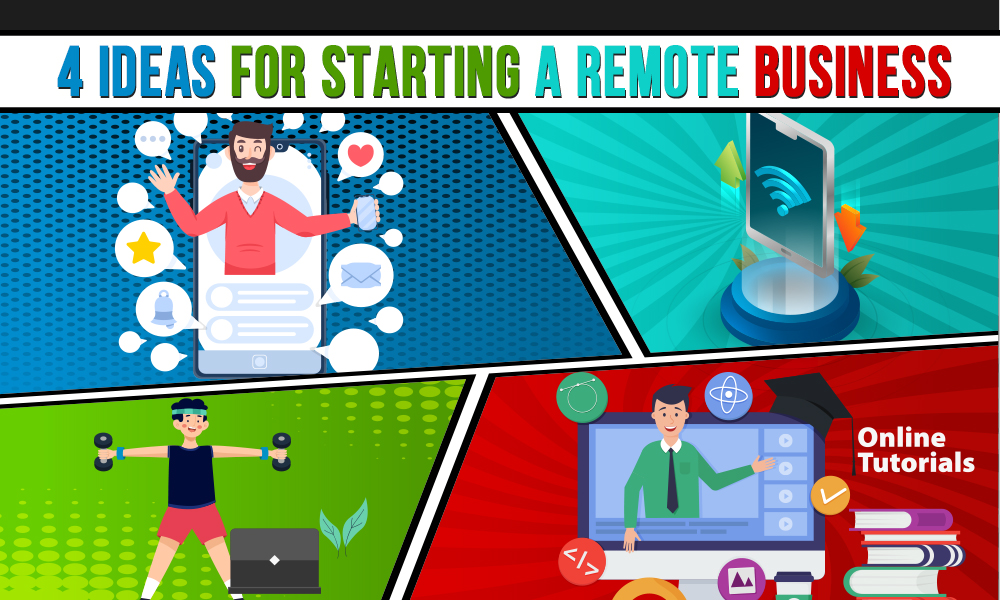 Promising options for remote business
4 business ideas for starting a remote business:
Online learning. If you have any useful knowledge and skills, you can earn on online training. Nowadays, online trainings, master classes, webinars, online courses, etc. are very popular.
Blogging Bloggers can make great money on advertising. But, of course, for success you need to make the audience interested. For a decent profit, the number of subscribers should be at least 20K; to attract them you need to invest in promotion.
Online fitness studio. Not all people can afford going to the gym - someone does not have enough time, someone does not have enough money. And during quarantine, online sports are more relevant than ever. Therefore, if you are a fitness specialist, take this business idea into service.
GSM termination. Business in the field of telecommunications provides for landing of international calls at the price of local ones and you earn on the difference in their cost. For this remote business, you do not need any special knowledge and skills - only inexpensive equipment and software. For the beginners, GoAntiFraud company proposes ready-made business packages that include everything you need to get started.
Choose a niche for your remote business based on your skills and abilities. An option for all purposes is GSM termination, because everyone can open such a business! No need to be an expert in any business, no need to have an education or work experience. Buying a business package, you get round-the-clock technical support and advice from your personal account manager who will help you with everything.
Take care of your future today - start a profitable remote business!