Your own remote business in our realities is an opportunity not to depend either on the crisis, or on the employer, or on quarantine restrictions. The ideal option is GSM termination business. It does not require clients' visits – all business processes take place remotely, online. At the same time, it's very easy to launch – there are ready-made business solutions for a quick and easy start. Start today – earn tomorrow.
GSM termination is a type of telecommunications business that makes it possible to "land" international calls at local rates using special equipment. As the owner of this equipment, you will act as a GSM operator and get money for that. To start a GSM termination business, you need to follow 5 simple steps:
Buy GSM equipment and place it in the selected location. For termination, you need GSM gateways (equipment that allows the calls to be "landed" at local rates) and a SIM-bank (allows remote monitoring of your equipment in combination with special software and simulates the behavior of a real subscriber). You can place equipment in any country, while remotely controlling it and monitoring its operation.
Buy SIM cards for gateways. For GSM gateways to work, you need local SIM-cards from which calls will be made. You need the cards in a fairly large amount, since they get locked by GSM operators from time to time, when a termination is detected (remember that you are their competitor).
Connect the equipment to special software. Software is the most important component for starting a successful business. It is needed to minimize SIM-lock by the operator, to remotely control equipment from anywhere in the world, to monitor the operation of gateways and display calls statistics, to automate many work processes. Doing all this manually is unfeasible.
Establish cooperation with a traffic provider. The traffic provider, or the originating company, is, in fact, your client who will pay you for "landing" the calls. Finding a reliable traffic provider is important. Our company has contacts of verified originators, which we provide to our clients. It is important to find a reliable traffic provider? Our company has contacts of verified originators, which we provide to our clients.
Start to "land" international calls. That's it, your business is set up and ready to go, you just have to "land" the traffic supplied by the originator using GSM gateways. Traffic providers pay you every week.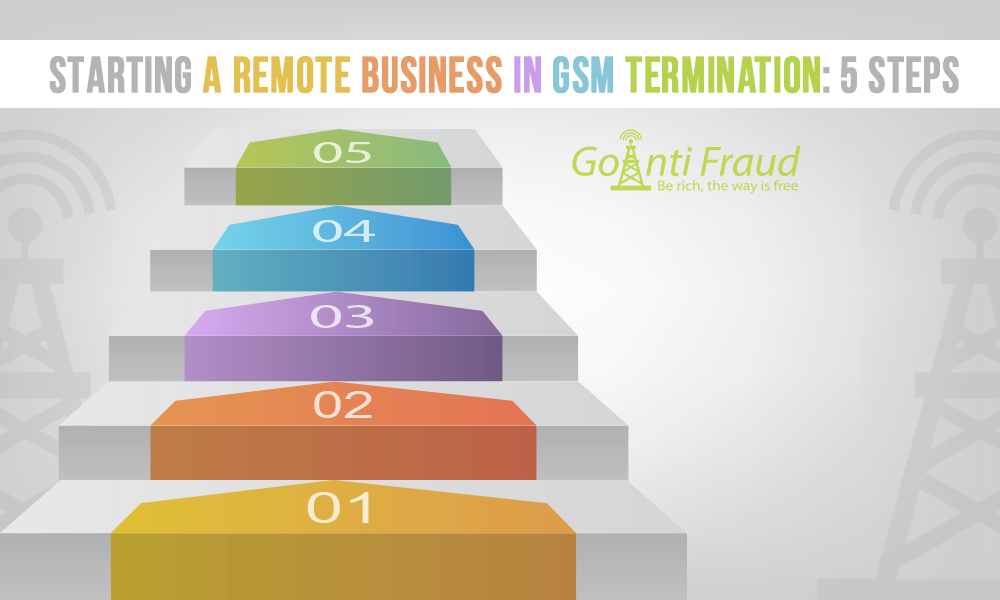 Starting business in GSM termination is really simple. All you need is a minimum start-up investment of $ 2,000 (what other business with an income of $ 2,000 per month and a payback in six months requires such a small initial investment!?) For this money, you can buy a ready-made business package from us, which includes everything you need to start (a set of GSM equipment, software, SIM-lock minimization tools to meet the specifics of your country). You can start earning immediately after you receive the equipment.
Do not put off your well-being until later, start a profitable business right now!