Probably, each of us at least once in his/her life thought about starting his/her own business. In order not to depend on the employer anymore, not to live from paycheck to paycheck, to have a flexible work schedule, to earn big money... But many are stopped by how much time, effort, money to invest at the start to organize their business. In fact, starting a business is easy - if you buy a turnkey solution "in a box".
There are ready-made business solutions that include everything you need to get started. All you have to do is start earning! Such all-inclusive business packages are offered by GoAntiFraud to start a profitable business in GSM termination. They are designed to start a business of different scale (with a different number of channels for termination). The more channels, the higher your profit. You can start with a low-cost solution for a small number of channels and expand your business easily over time.
Each business package includes:
A hardware set.
Software for successful work.
Technical support.
Personal adviser services.
Assistance of professionals in customization of your business.
The software developed by us, which is included in business packages, allows automating many business processes, extending the "life" of SIM-cards, setting up the SIM-cards operation under certain scenarios. Special modules are also available to increase your profit (SBO traffic optimization, Call recording, IVR detection, Autonomous operation of SIM cards).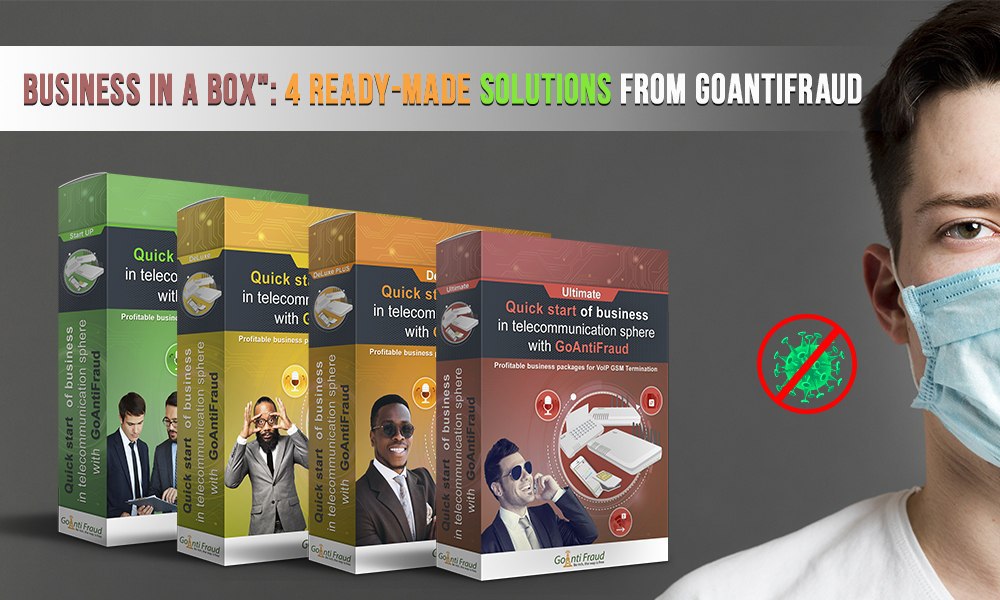 4 ready-made business solutions from GoAntiFraud:
Start Up (for 64 channels).
DeLuxe (for 128 channels).
DeLuxe + (for 192 channels).
Ultimate (256 channels).
You can find out more about our business packages here. The prices for packages start from $2000. This is a small amount to invest in a business that will generate at least $ 2,000 per month.
Starting a profitable business with GoAntiFraud is easy! You will not need to write a business plan, think over and organize everything, spend a lot of time setting up all business processes. We made sure that you get a turnkey business. For you to quickly understand the principles of our service and the business itself in GSM termination, your personal account manager will be attached to you.
Start your own business today! Leave application for a free consultation.