Cameroon, the Republic in Central Africa, continues to be an appealing destination for those seeking to invest in GoIP termination traffic. As of today, the country still experiences a significant flow of international call traffic.
Cameroon's economy is primarily driven by the export of commodities such as oil, timber, cocoa, coffee, and cotton. Key trading partners include Spain, Italy, France, the United States, the Netherlands, and China. Imports mainly originate from Nigeria, Belgium, France, and China.
Traffic originators consistently target Cameroon, with an average traffic volume of approximately 15,000. With a population of 19.7 million, around 43% of residents rely on mobile communication services. The nation is served by three major GSM operators:
MTN with 10.1 million users
Orange with 6.2 million users
Nexttel with 2 million users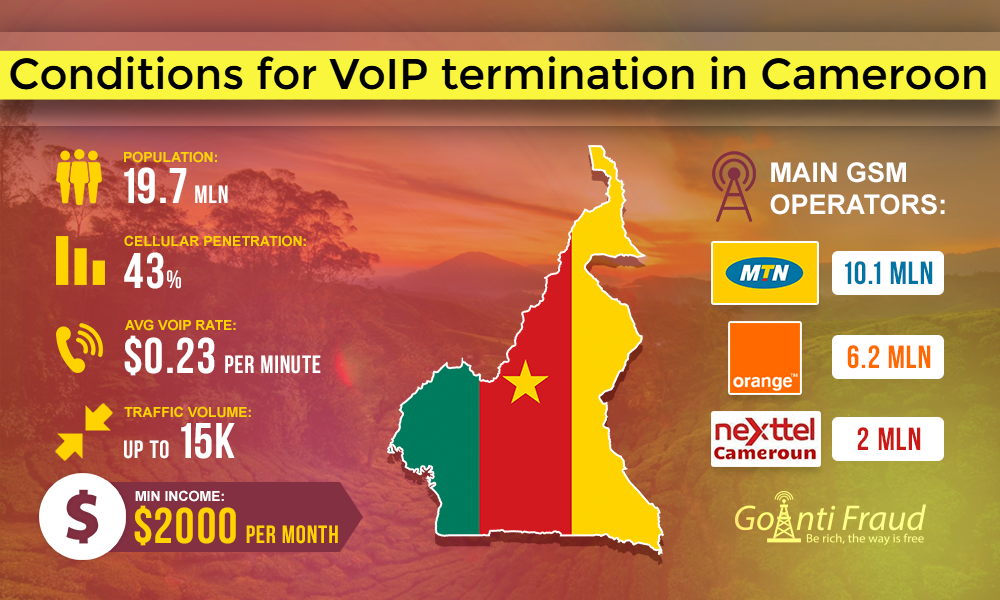 To maximize your returns from call termination, it is currently advisable to consider using SIM cards from the largest operator in Cameroon, MTN. Orange packages can also be effective for your traffic termination. It's important to note that GSM coverage in smaller towns may not be optimal, which can result in less stable mobile communication in those areas.
As of today, the average VoIP rate in Cameroon stands at approximately $0.23 per minute. A local call for one minute costs about $0.12, creating favorable opportunities for owners of GoIP GSM gateways to generate significant income. By terminating calls for five hours a day through a 16-channel device, you can potentially earn over $10,000 per month. This projection assumes you implement effective SIM card protection against anti-fraud systems, which is particularly crucial in today's market.
For the latest insights into selecting the most advantageous packages for GoIP traffic termination in Cameroon, refer to our guide and consult with our industry experts who can provide up-to-date information on rates and market conditions.