The prevalence of the Internet in Armenia reached 75% in 2015. Today, 90% of population use (with a total population of 3.2 million) the broadband Internet. In 2008, there appeared the first 3G network connection services to which the mobile operator Beeline proposed. The largest mobile phone provider VivaCell provides access to 4G networks in Armenia. They are used by more than 50% of local residents.
High-speed mobile Internet is more widespread in the country than the broadband Internet.
Among the major providers of broadband Internet in Armenia are:
Apaga Technologies CJSC
ArmenTel CJSC
GNC-Alfa CJSC
Ucom LLC.
If you are just starting your way in GSM termination - start it with GoAntiFraud! For beginners, we offer a complete NewBusiness solution that includes a set of necessary VoIP equipment and software for automation of business processes and proven tools to protect against AntiFraud systems. Over 2,000 customers in 31 countries have succeeded in the GSM termination using our service. You can become one of them!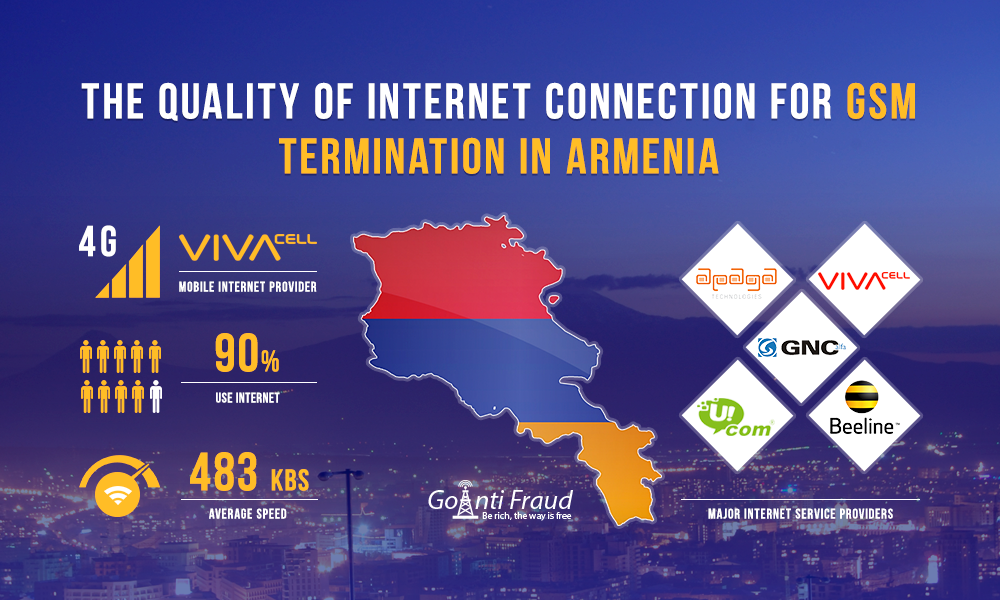 Data transfer rate is 483 kbps in the country on average. It is known that for the smooth operation of gateways gsm requires Internet connection speed from 32 kb/s per channel. That is, if you use an 8-channel gateway for the termination of calls to Armenia, you will need the Internet at about 256 kb/s, if you have only one device.
The "fastest" cities in the country are Yerevan, Abovyan, Hrazdan, Byuregovan, Apaga, and Vanadzor. The average speed of the Internet in Abovyan reaches 8.8 megabits per second, in Yerevan - 5 Mbps, in Apaga – 2.6 Mbps.
It is also important to take into account the network performance indicators such as ping, jitter, and package loss since not only on the stability of the connection, but also the quality of voice when speaking depends on them. You can check the settings for the network by using special speed and ping tests.
The quality of Internet connection in Armenia is quite suitable for the termination of calls. Tariffs are low: for example, VivaCell MTS offers unlimited 4G for a month for $7-8. By subscribing to this tariff plan for the year, the client receives a free USB modem, which provides data transfer at 150 Mbits/second.
Complete NewBusiness solution

from GoAntiFraud is your successful start into the GSM termination! We provide ready-business on a turnkey basis, which includes a set of GoIP equipment by EjoinTech or ChinaSkyline, convenient software to computerize the operation and efficient tools to protect the SIM-cards from the lock. We also provide qualified technical support at every stage of your business. Our business model is based on the successful experience of more than 2,000 customers in 31 countries!