Before you start your voip termination business in Kenya, you need to buy SIM-cards that will be used for the landing of GSM traffic. At the same time, you should understand that the tariff plan should provide favorable conditions so the termination brings good profit. First you need to decide on the operator.
The largest provider of cellular communication is Safaricom. Its subscriber base comprises 20.8 million people. There are two other mobile operators in Kenya - Airtel (5.5 million users) and Orange (Telkom Kenya) with 2.2 million customers. For VoIP GSM termination, it is better to buy Safaricom SIM-cards as this provider handles the most traffic in the country. This will increase your chances for a stable profit because you will be able to have the maximum number of minutes paid off.
Safaricom prepaid packages include calls at the rate of $0.039 per minute, both for on-net calls and for communication with subscribers of other operators. This tariff is valid from 8 am to 10 pm, and at night (from 10 pm to 8 am) calls cost 0.02 per minute. Of course, it is not necessary to terminate at night as increased activity at this time of the day would cause a mobile operator's suspicion. Change of activity by time of day is one of the parameters of humanity, which antifraud systems analyze.
If you are just starting your way in GSM termination - start it with GoAntiFraud! For beginners, we offer a complete NewBusiness solution that includes a set of necessary VoIP equipment and software for automation of business processes and proven tools to protect against AntiFraud systems. Over 2,000 customers in 31 countries have succeeded in the GSM termination using our service. You can become one of them!
But the fact is that voip rate on landing Safaricom traffic in Kenya is not too high - $0.0931 per minute (compared with Airtel, where a minute costs $0.1807). But still it is possible to make good money. A SIM-card itself costs about $2 in Kenya. Thus, the owner of the sim box server and an 8-channel GSM gateway that works for 5 hours a day will be able to make about $2,500 per month, using Safaricom prepaid packages. Approximate income is calculated taking into account the average 1-week life of a SIM card.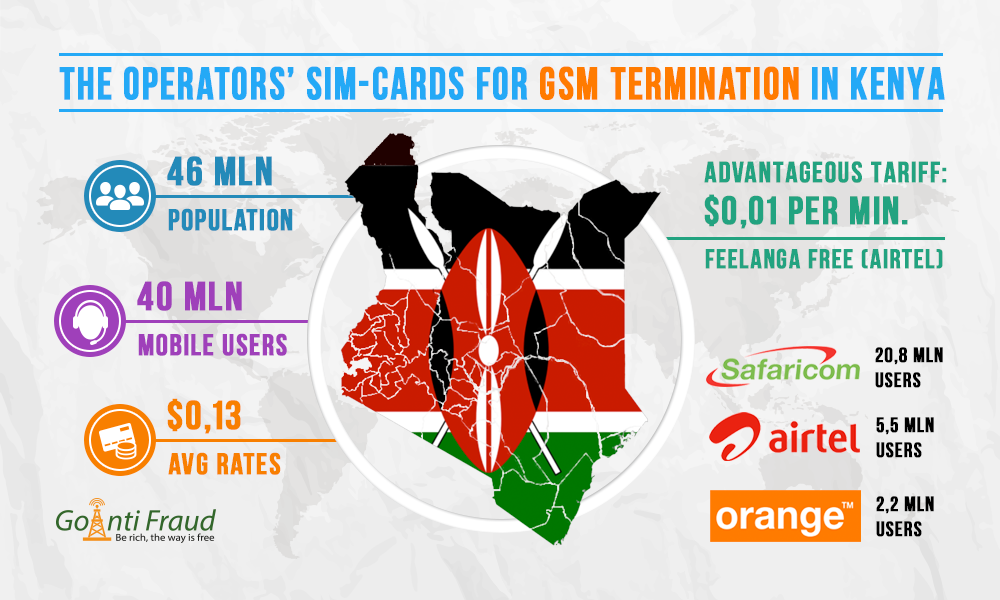 Airtel is the second most popular in Kenya, and the SIM-cards of this operator can also be used for voip termination business. An Airtel card costs less than $1. The operator offers 3 packages for prepaid customers:
VUKA. Rates for calls are the same as that of Safaricom for prepaid subscribers. From 8 am to 10 pm a minute costs $0.039, from 10 pm to 8 am - $0.02. Tariffs are valid for both on-net calls and calls to other cellular providers.
Feelanga Free is valid only for calls to Airtel numbers, from 6 am to 6 pm. The rate is $0.01 per minute (with billing per second, that is 1 minute of conversation is charged 2 cents of the Kenyan shilling). Calls to other operators in Kenya cost $0.04, as well as calls that are made from 6 pm to 6 am.
KLUB254. The tariff plan allows calling to 10 "preferred numbers" at any time of the day at $0.01 per minute. To the other Airtel numbers you can make calls for the same $0.01 but only from 10 pm to 6 am. For the rest of the day, the price per minute is $0.04 for both Airtel numbers and other operators' numbers.
Feelanga Free from Airtel is an optimally suitable package to terminate GSM traffic. Terminating for 5 hours a day with an 8-port gateway, you can make more than 8,000 dollars per month using this tariff plan. In addition to the favorable conditions of the package, the income is affected by a high rate ($0.1807 per minute on average).
Complete NewBusiness solution from GoAntiFraud is your successful start into the GSM termination! We provide ready-business on a turnkey basis, which includes a set of GoIP equipment by EjoinTech or ChinaSkyline, convenient software to computerize the operation and efficient tools to protect the SIM-cards from the lock. We also provide qualified technical support at every stage of your business. Our business model is based on the successful experience of more than 2,000 customers in 31 countries!