"MTS-Turkmenistan» (BCTI) is a well-known Russian company that provides excellent coverage and service to customers. It is popular in many countries and Turkmenistan is no exception. For termination, you should choose the favorable tariff plan.
Terminators point out a fairly hard antifraud from MTS. It is important to choose not only the lowest rates based on the average load on the termination, but also packages that provide active communication. It helps to minimize risks of SIM-lock. You also need to provide the reliable protection from AntiFraud systems by using an effective tools for simulation of human behavior.
"MTS-Turkmenistan" offers customers 4 prepaid tariffs, "Speak a lot", "SMART" (Smart L, Smart M, and Smart XL), ULTRA and "GÜL ÝALY +". Taking into account the additional SMART line, it makes 7 tariff plans, which are sufficient to select the optimal solution for the termination.
Most acceptable tariffs are SMART (Smart M and Smart XL), and "Speak a Lot." With the average termination load, one minute of a conversation, for example, six days for five hours a day, will cost from $0.011 to $0.041, which is enough to generate income about $1,000 a month via a single gateway channel.
If you are just starting your way in GSM termination - start it with GoAntiFraud! For beginners, we offer a complete NewBusiness solution that includes a set of necessary VoIP equipment and software for automation of business processes and proven tools to protect against AntiFraud systems. Over 2,000 customers in 31 countries have succeeded in the GSM termination using our service. You can become one of them!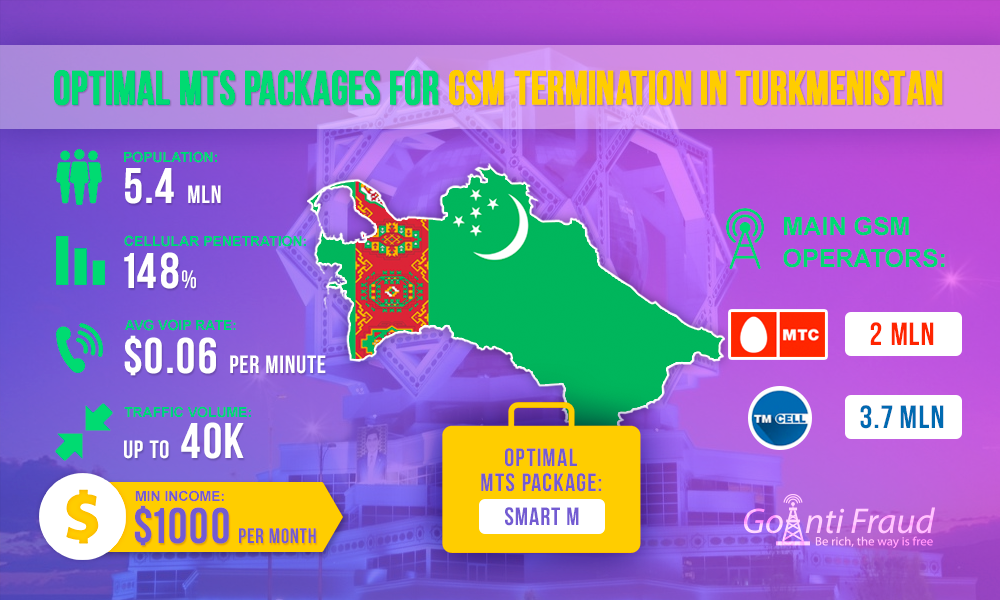 Tariff plans Smart M and Smart XL involve active communication. The operator provides unlimited minutes for them: 1,000 minutes for Smart M and 1,500 minutes for Smart XL, and 300 and 400 free SMS-messages, respectively. After a subscriber has spent this time, he has to top up and can again communicate within the network. It is clear that when you are connected to SMART, the operator will unlikely suspect fraud, even if you receive numerous calls to your numbers. But VoIP termination Turkmenistan is impossible without masking the SIM-cards from antifraud systems. We recommend you to connect VoIP equipment to GoAntiFraud service. It provides an efficient imitation of real subscriber's behavior.
When you connect "Speak a lot", the operator offers single tariff for calls at 0.05 manats, which is $0.0144. It is most advantageous to use the package for long conversations, because the price per minute depends of call duration. And although prices are more expensive than those of SMART, however, you can earn enough.
However, many beginners are faced with rigid MTS antifraud and a fast lock of SIM-cards by the operator. Such cases can be avoided if you connect to GoAntiFraud. This service takes into account all the parameters of an operator antifraud automatically, expertly masking termination like a live client chatting in the GSM network.
Complete NewBusiness solution from GoAntiFraud is your successful start into the GSM termination! We provide ready-business on a turnkey basis, which includes a set of GoIP equipment by EjoinTech or ChinaSkyline, convenient software to computerize the operation and efficient tools to protect the SIM-cards from the lock. We also provide qualified technical support at every stage of your business. Our business model is based on the successful experience of more than 2,000 customers in 31 countries!