GSM termination in Armenia is quite in demand among transit companies. In the specialized forums, you can find a variety of proposals for delivery of traffic in that direction. The traffic volumes start at 5K and reach 70 thousand minutes. With an average voip cost of $0.17 per minute, the terminator has a good opportunity to make money in Armenia.
With a population of about 3.2 million people, the coverage in the country is 120%, and experts predict a further annual growth of 5%. GSM network covers 90% of the territory of Armenia. The country has three major mobile operators:
VivaCell (2.1 million subscribers);
Beeline (0.7 million subscribers);
UCOM (0.5 million subscribers).
UCOM is a local Armenian operator that bought the subsidiary of Orange, the French company.
VivaCell is the largest cellular provider in Armenia, so its packages are best suited for GSM termination. The maximum amount of traffic this particular operator is concentrated in the country. On the other hand, VivaCell invests impressive funds for development of AntiFraud systems. The analytical and calling systems owned by the company are considered one of the toughest. Therefore, it is very difficult to predict the lifespan of VivaCell SIM-cards.
GoAntiFraud is created for effective VoIP traffic termination. We provide our customers with proven tools for masking SIM-cards from AntiFraud. With their help terminators can extend the life of SIM cards to land calls.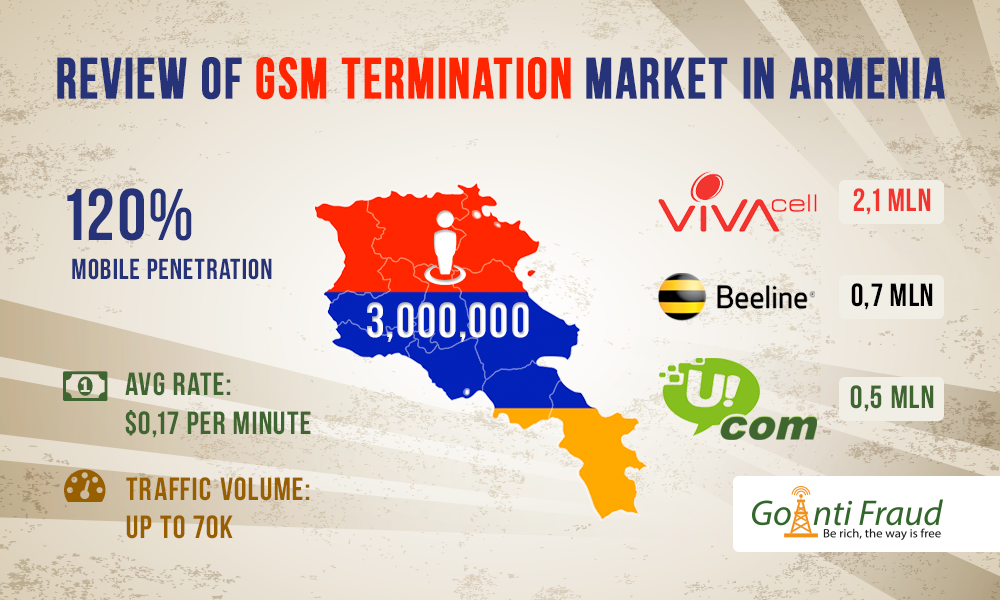 VivaCell offers quite cheap tariffs for calls within the network. A great option for terminator is prepaid Viva package that provides 1,500, 2,500, 3,500, 5,500, and 7,500 minutes. You can select the optimal number of minutes in accordance with the terminated amount of traffic. VivaCell Viva packages cost ranges from $3 to $16. Considering that the average lifespan of SIM-card is about a week, it is better to prefer Viva1500 tariff plan. These minutes will be enough to have a gateway operating 5 hours for 5 days.
Using a 4-channel GSM gateway for termination in Armenia and having it working 5 hours a day, you can earn about 4,000 thousand dollars a month. With this, you can use the multiple port equipment, or place several multichannel gateways in different parts of the country.
GoAntiFraud will increase the profits you can obtain doing GSM termination in Armenia. Thanks to our efficient tools, you can make maximum use of your gateways and SIM-banks, providing them with 100% productivity.