In order to do profitable traffic termination in the UAE, you need to minimize business costs. First of all it is important to choose the lucrative tariff plans for landing calls.
In the United Arab Emirates there are two cellular operators - Etisalat and Du. The first covers the main part of the market. The number of its users is 8.92 million, The second provider is also very popular among the population. Its subscriber base is 7.6 million people. SIM-cards of both GSM operators are suitable for termination if you provide a reliable protection from the SIM-lock.
To minimize blocking of SIM-cards, you can connect your gateways to GoAntiFraud. The service functions will help you efficiently circumvent antifraud systems. At your disposal there are tools to simulate the movement of the user around the city, the automatic execution of USSD-requests, the generation of incoming calls, incoming and outgoing calls to preferred numbers, SMS-messages and so forth.
If you are just starting your way in GSM termination - start it with GoAntiFraud! For beginners, we offer a complete NewBusiness solution that includes a set of necessary VoIP equipment and software for automation of business processes and proven tools to protect against AntiFraud systems. Over 2,000 customers in 31 countries have succeeded in the GSM termination using our service. You can become one of them!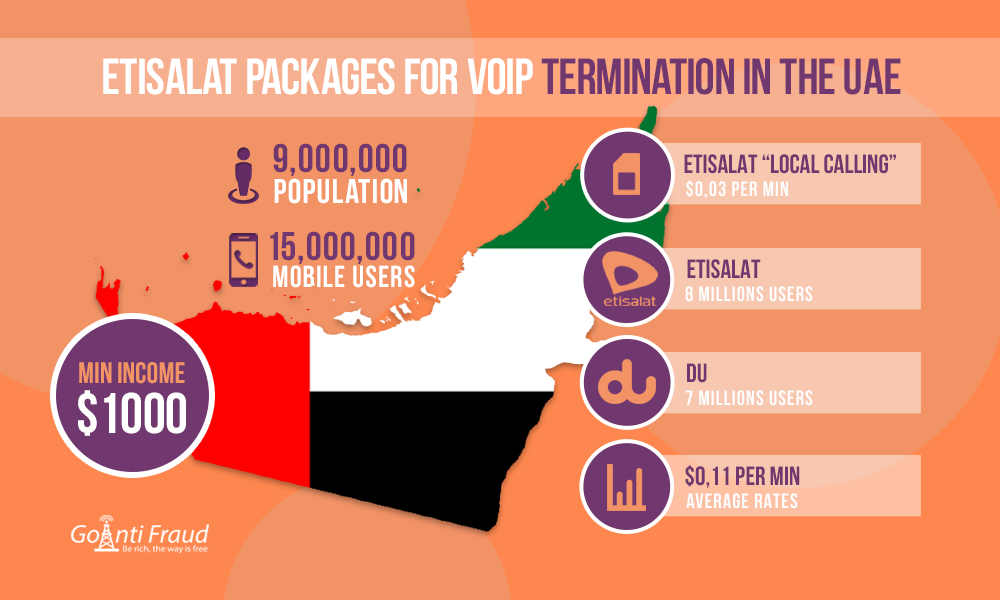 The pre-paid packages are ideal for traffic termination. Etisalat offers 5 prepaid tariff plans:
Combo Pack. There are 2 types: Monthly and Daily. The first option suits for termination. The package, in turn, is presented in 4 variations: Small (60 minutes for $10.89), Medium (150 min for $ 23.14), Large (270 minutes for $40.84) and Extra Large (600 minutes for $ 81.68).

Local Calling. For $ 0.98 per day you get 30 minutes to make local calls at the rate of $0.03 per minute.

New Wasel provides a welcome bonus in the amount of $ 0.27 per day. Local calls can be made at $0.0974 per minute. The connection fee is $13.46.

Wasel Super50 provides 50 local minutes at $13.61.

Pinoy Pack provides 20 free minutes for $5.45 to make calls within the country.

The most favorable Etisalat package is Local Calling. If one 8-channel gsm sim gateway will run for 2 hours per day, you can earn about $1,000 using this tariff plan (with an average lifespan of the SIM-card about 7 days) over a month. The rest of the packages of this operator offer not very attractive terms, and termination via them may even be unprofitable.
Complete NewBusiness solution from GoAntiFraud is your successful start into the GSM termination! We provide ready-business on a turnkey basis, which includes a set of GoIP equipment by EjoinTech or ChinaSkyline, convenient software to computerize the operation and efficient tools to protect the SIM-cards from the lock. We also provide qualified technical support at every stage of your business. Our business model is based on the successful experience of more than 2,000 customers in 31 countries!