Serbia, as one of the Balkan countries is quite an attractive destination to start a GSM termination business. The cost of voip minutes Serbia is $0.23 on average. The country has a high level of mobile coverage. This figure rises to 130%. To obtain a stable income from landing GSM traffic, it is important to choose the right mobile operator, whose SIM-cards you will be using to operate.
In Serbia there are three licensed mobile operators - Telenor, MTS, and Vip. About 42% of the population use the services provided by Telenor. MTS accounts for 38%, and Vip 20%. At the same time, the country's population is about 7 million inhabitants. For GSM termination, it will be advantageous to use SIM-cards of the two largest operators - Telenor and MTS.
If you are just starting your way in GSM termination - start it with GoAntiFraud! For beginners, we offer a complete
NewBusiness solution
that includes a set of necessary VoIP equipment and software for automation of business processes and proven tools to protect against AntiFraud systems. Over 2,000 customers in 31 countries have succeeded in the GSM termination using our service. You can become one of them!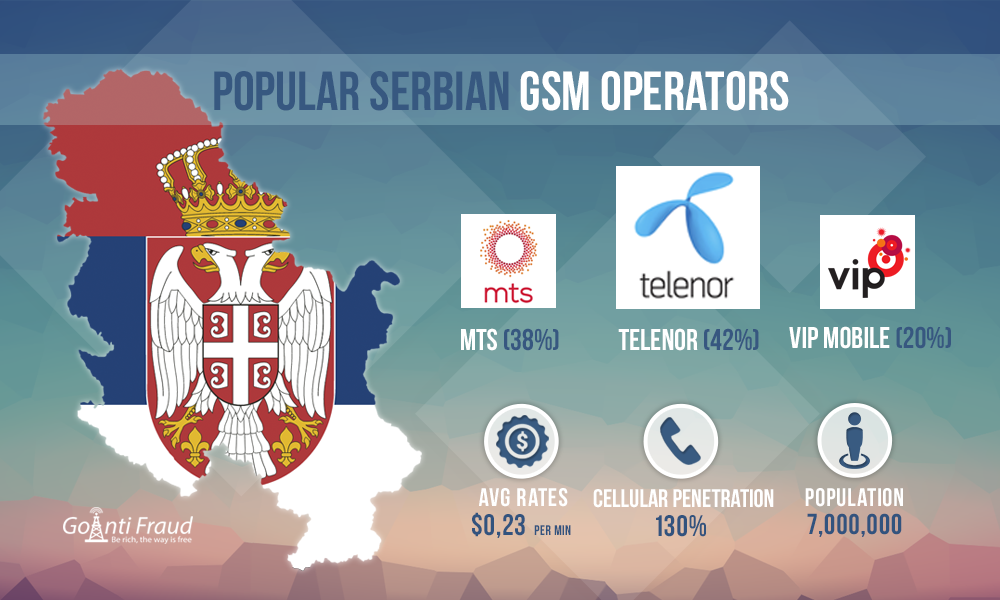 Both cell companies offer prepaid packages (in Serbia, they call them "pripejd)". You can buy the packages if you provide your passport. One SIM-card of both operators is worth $2.75. At the same time, both MTS and Telenor provide a $0.23 bonus to the account after the number is activated. Rates for local calls (about $0.11 per minute) make a significant difference to the cost of international voip minutes.
To do an efficient GSM termination in Serbia, it is important to minimize blocking of SIM-cards by mobile operators. To do this, we recommend that you connect GoIP, EjoinTech & China Skyline or Topex equipment to GoAntiFraud. This will allow you to avoid the SIM-lock, using proven tools for the simulation of human behavior in the GSM networks. With the help of our service, your 3g gsm gateway will work with 100% productivity, bringing maximum profit!