Demand for voip termination wholesale Kazakhstan is quite high. Originator companies offer an average of 50 thousand minutes of traffic per month. With an average value of voip call $0.06 per minute and at the expense of cheap calls within the country, GSM termination in Kazakhstan is a promising line of business in the telecommunications sector.
With a population of 17.7 million, the services of the mobile operator are used by 120% of local residents, that is, many people are connected by more than one number. There are 4 companies providing cellular communication in Kazakhstan:
Kcell - 12 million users.
Beeline - 7.5 million subscribers.
Tele2 - 0.35 million.
Altel - 0.2 million.
To do business in the field of voip termination wholesale, it is better off preferring the largest mobile operators - Kcell and Beeline. Then you will be able to earn more because these telecommunications companies provide a large amount of international traffic.
GoAntiFraud is a complete solution for a profitable GSM traffic termination in Kazakhstan! Taking advantage of our service, you can mask the SIM-cards from the Antifraud systems, thereby increasing your income. Connect your gateways and SIM-banks to GoAntiFraud or order a turnkey solution for beginners - NewBusiness. GoAntiFraud is compatible with GoIP equipment by EjoinTech & ChinaSkyline, and Topex.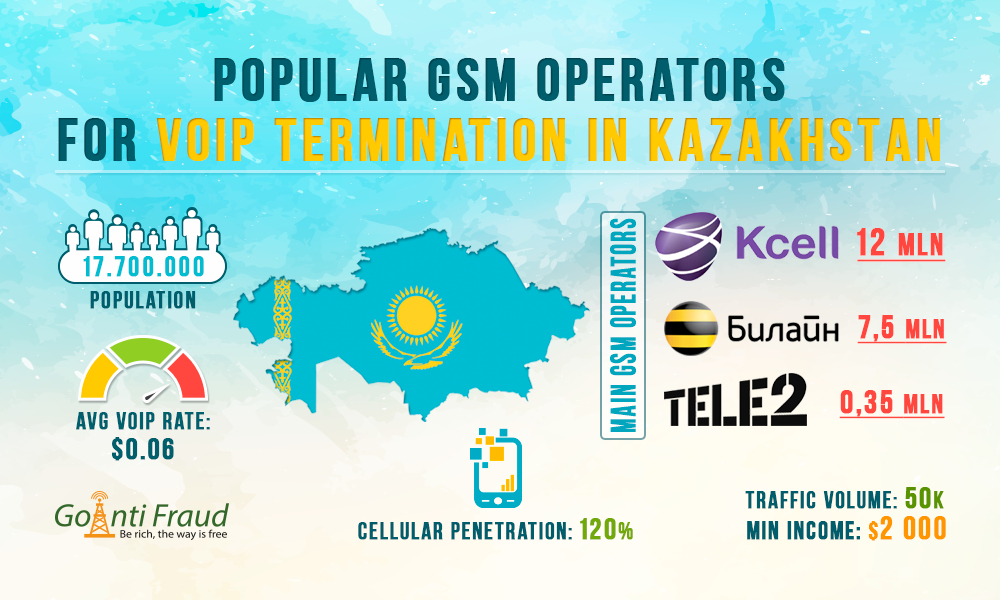 To terminate in Kazakhstan using a voip gateway device is advantageous because there are cheap local tariffs for cellular communication. In addition, you can buy an inexpensive SIM-card of Kcell for about $9. With an average 7-day operation of the card, you will have to spend approximately $40 to purchase SIM-cards for 1 channel a month.
Kcell offers unlimited tariff plans that allow making free calls within the country to the numbers of the same operator. The price of packages starts from $7. Accordingly, you can make $2 thousand a month to start with, using an 8-channel gateway and working 5 hours a day.
Beeline SIM-cards are even cheaper - from $1.5. Beeline has cheaper tariff plans to offer - unlimited on-net starting from $6.85, and you get free 350 minutes for calls to other operators.
In order to successfully make money terminating calls in Kazakhstan, it is important to protect SIM-cards from the lock. Connect your VoIP equipment to GoAntiFraud, and you can reduce the number of blocked numbers using proven tools. In addition, the user-friendly software will computerize the SIM-cars related routine processes.