In Kazakhstan, you can make from 2 thousand dollars a month, with an average $0.06 of a voip minute. The main thing is to choose the right package for VoIP GSM termination and have a reliable Internet connection. The country daily receives a large amount of international traffic that is distributed among several national operators. The largest of them is Kcell and Beeline. It is their SIM-card that should be used for the GSM termination business.
Beeline serves about 7.5 million users in Kazakhstan (when the country's population is 17.7 million). That is, this operator handles a lot of international voice traffic. That means you can have as many minutes as possible paid off using its packages. Beeline rates for mobile communication within the country are lower than those of its competitor Kcell.
To make money doing GSM termination in Kazakhstan, you have to skillfully evade AntiFraud systems. Connect your equipment to GoAntiFraud to protect your SIM-cards from the lock! Proven tools to simulate human behavior can help you get more profit from VoIP termination!
Beeline offers 6 prepaid plans that will be of interest to owners of gateway sim:
ALL. There are several types - "800", "1200", "1500", "1500 PROMO", "over 2300". All of these options provide unlimited free calls within the network and a certain amount of free minutes to other operators for a fixed fee per month ($ 2.3, $ 3.6, $ 4.5, $ 7).
FreeStyle Lite National. For $0.6 you get 10 free minutes per day for in-network calls. Validity is 6 days. These minutes are not enough for a successful termination.
FreeStyle Unlimited. For $ 0.6 you get unlimited calls within the network but you need to top up your account by this amount every 6 days.
7+. You can make calls within Kazakhstan and to city lines at $0.021 per minute.
"Welcome!" For $4.47 per month you get 200 free minutes within Beeline. There is "Welcome! 7 days" that includes 50 free minutes when you pay $1.19 per week.
Premium. With subscription fee $11.62 per month you can make free calls to Beeline numbers, and you get 500 minutes to make calls to other operators. Premium Gold offers unlimited calls in the network and 1,000 minutes to make calls to other operators for $26.52.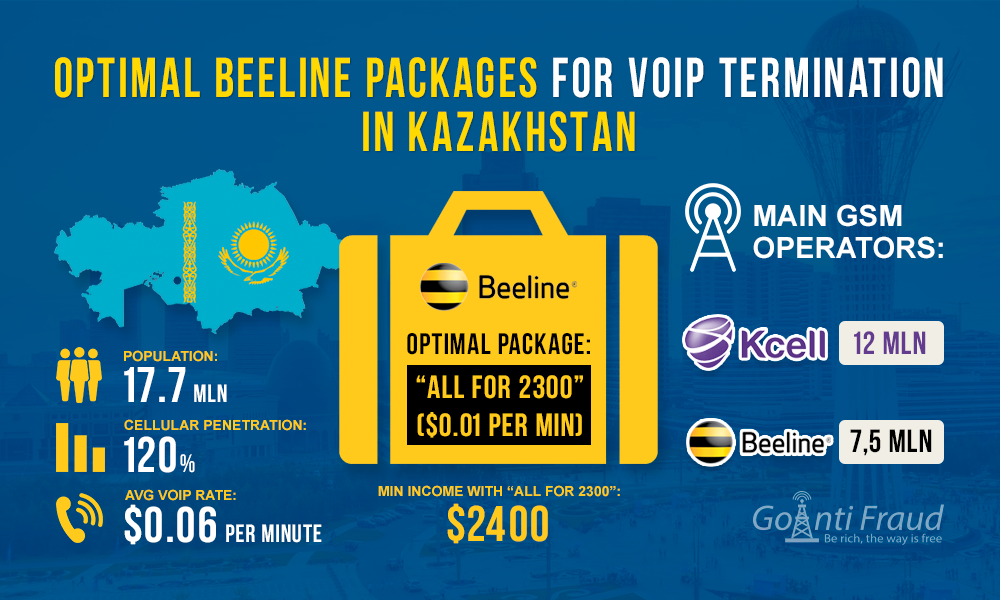 The best option for those who want to enter into a contract for call termination Kazakhstan is "All for $ 6.85" package. You get the possibility to make unlimited outgoing calls to Beeline numbers and get 300 free minutes for communicating with subscribers of other operators. Accordingly, you can terminate, for example, 600 minutes a day, paying only $6.85. In this case, a minute of conversation will cost $0.01. Using the 4-channel gateway, you can receive an income of about $2,400 per month by means of this package.
GoAntiFraud is a complete solution for a profitable GSM traffic termination in Kazakhstan! Taking advantage of our service, you can mask the SIM-cards from the Antifraud systems, thereby increasing your income. Connect your gateways and SIM-banks to GoAntiFraud or order a turnkey solution for beginners - NewBusiness. GoAntiFraud is compatible with GoIP equipment by EjoinTech & ChinaSkyline, and Topex.