Tcell company was created by the merger of two companies - CJSC "Indigo Tajikistan" and CJSC JV "Somoncom". Now it owns 99% coverage of the country and more than 2.5 million users, whose number is constantly growing.
Tcell offers 10 packages: "Auson", "Suhbat bemalol", "Aҷoib 2016", "2016 Salom", "Double Unlimited", etc. All of them require full prepayment. Six of these tariffs provide a limited number of minutes, from 120 to 300, the other four gives a subscriber total freedom in communication. To make money doing VoIP termination, unlimited tariff plans should be used, allowing working 4-5 hours a day at low rates.
From this viewpoint, the above 6 packages that provide the limited number of minutes are not suitable. There remain other 4 unlimited tariffs - "Aҷoib 2016", "Salom 2016", "2016 the Next" and "Double Unlimited". Of these, the first two are the most profitable for the traffic termination. Cost per minute of the call is $0.00015 at 5-hour work for 5 days. Both packages provide an advance payment once a month at $0.13.
Also, the "Next 2016" tariff plan is no less popular with terminators. To use it, prepayment is not required. The cost of outgoing calls within the network is as little as $0.002537.
GoAntiFraud is compatible with the equipment produced by EjoinTech & China Skyline. You can connect your gateways and SIM-banks to the service, or buy equipment from us at a low price. For those who are just starting a GSM termination business, we offer ready NewBusiness packages, including complete sets of Ejoin Tech & China Skyline equipment.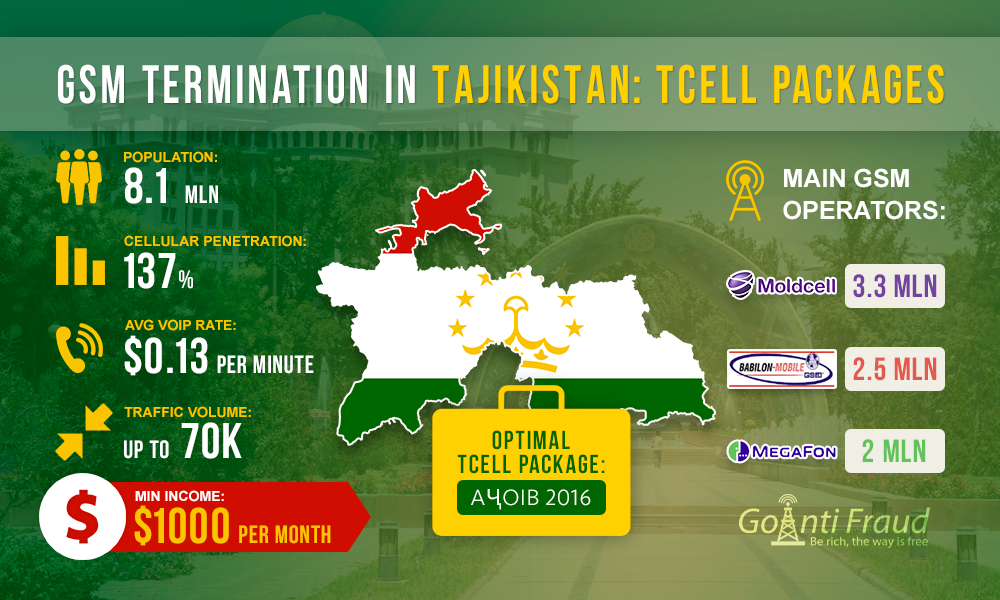 Third-effective option for VoIP solution for small business Tajikistan is "Double Unlimited", for fans to combine calls and chat on the Internet. It has 2 charging options: Unlimited 55 and Unlimited 75. Unlimited 55 is the best option for termination, a minute of conversation here would cost $0.0080, and the fee for the package is $7.15 per month. To activate Unlimited 55, you need to type sequence of numbers: * 575 * 1000 #.
Accordingly, the cost of call minutes to do GSM termination via the above packages for four hours per day would be from $0.0080 to $ 0.00015. At the same time, voip traffic cost via Tcell in the direction of Tajikistan is $0.1143 per minute. It is easy to calculate that the net profit from the termination of international calls will be about $1,000 per month with only one channel.
By the way, experienced terminators do not use single-channel VoIP equipment but install gateways equipped with 8, 16 and 32 ports to increase monthly income according to the number of VoIP GSM gateway channels.
Do you want to increase the profitability of your business using China Skyline gateways? GoAntiFraud provides a complete solution for competitive VoIP GSM termination, due to which your GSM gateways and SIM-banks will operate more efficiently. We directly cooperate with China Skyline and sell its equipment at the lowest prices.