It is profitable to do VoIP-termination in Liberia: with average voip termination rates of $0.28, the price per minute of conversation in the country is an average of $0.15. It is possible to find and cheaper tariff plans for landing calls. Today Liberia has one of the lowest prices for local calls, due to the high competition in the mobile sector of the telecommunications market.
With a population of about 4.3 million people, cellular communications are used by about 78%. In total there are 4 GSM operators in the country:
Lonestar (MTN) - more than 1.3 million subscribers;
Cellcom (Orange) - about 1 million subscribers;
Novafone (Comium) - 0.3 million subscribers;
Libtelco - 0.05 million subscribers.
Lonestar and Cellcom have the largest market coverage. They actively compete with each other. In 2004, prices for calls to Liberia were very high, the SIM-cards were sold at $65 and deposit funds had to be at least $ 15. If the subscriber does not have any money on the balance within 30 days, the card got blocked, and to unblock it you had to pay $10 as well as replenish the account with $15. At that time, only wealthy people could afford to use cellular communication. Ordinary Liberians did not have mobile phones.
To make money doing GSM termination in Liberia, you have to skillfully evade AntiFraud systems. Connect your equipment to GoAntiFraud to protect your SIM-cards from the lock! Proven tools to simulate human behavior can help you get more profit from VoIP termination!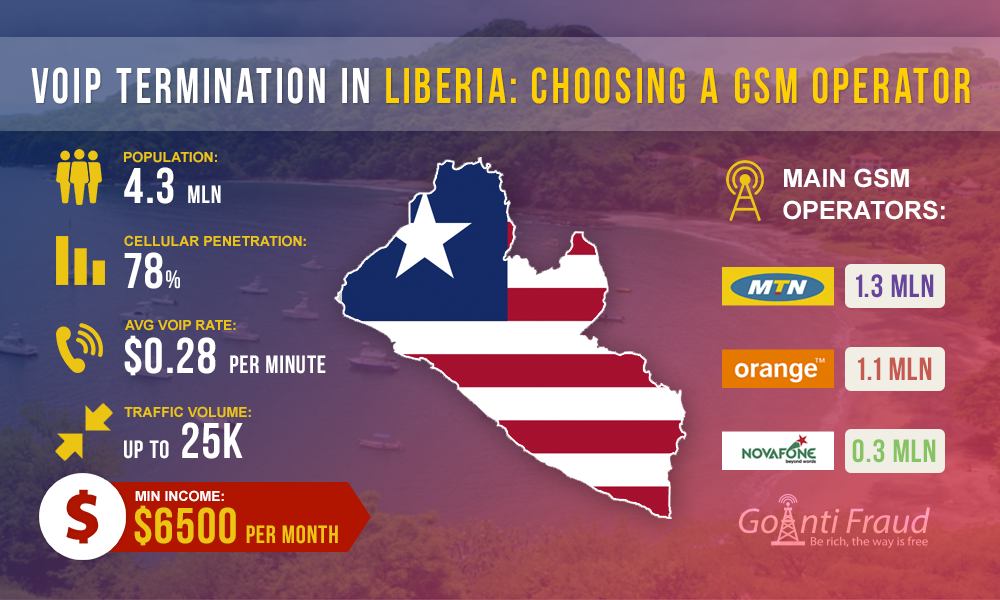 With another player come the market - Cellcom, with increasing competition and breaking the monopoly in the mobile sector of Liberia, the cost of local calls, as well as SIM-cards has declined significantly. Today you can buy a SIM card in the country for $12, while there are $15 of credit available on the account. Prepaid packages are on sale not only in retail cellular stores, but also at airports.
To do termination in Liberia, it is best to use SIM-cards of the largest operators - MTN, Cellcom, and Novafone. This will allow you to have a maximum number of international calls paid off via 32-channel voip gsm gateways. As for the demand, the final termination of MTN and Novafone traffic has more demand among originator companies. Transmitters offer almost 30 cents per minute for terminating GSM traffic of these operators. Such voip termination rates in Liberia enable a terminator to make about $6,500 per month, if you have the 8-channel equipment operating.
GoAntiFraud is a complete solution for a profitable GSM traffic termination in Liberia! Taking advantage of our service, you can mask the SIM-cards from the Antifraud systems, thereby increasing your income. Connect your gateways and SIM-banks to GoAntiFraud or order a turnkey solution for beginners - NewBusiness. GoAntiFraud is compatible with GoIP equipment by EjoinTech & ChinaSkyline, and Topex.