Many people wonder how beneficial Turkey as a direction for the termination is and whether there is enough money to make. The main points that should be paid attention to when considering this country are migration rates, the quality of communication, the demand for bandwidth, and the best tariff plans.
According to official figures, a lot of tourists come here in recent years as well as many people leave it for neighboring Asian countries and the EU. So, due to migration a lot of international traffic flocks here.
According to experts, 29.7 million of 80,463,633 million people leave for work every year. Turkey ranks third in the labor market in Europe.
The total number of emigrants to other countries is around 990 million 49 451 people. The largest settlements of Turks outside the country are in the Arab world, especially in Syria and Iraq. In the former of these, there are 350 million in the latter - 3 million. A lot of immigrants from Turkey live in the EU. For example, in Germany there are 4 million, in the UK - more than 500 thousand, in Macedonia - 80 thousand, in the United States, France, Great Britain and Austria - about 500 thousand.
At the same time, the level of external migration to the country is also growing. According to experts, the total number of people, who come here for permanent residence, increases every year. It is predicted that soon the number of visitors to Turkey will exceed the number of those who leave.
If you are just starting your way in GSM termination - start it with GoAntiFraud! For beginners, we offer a complete NewBusiness solution that includes a set of necessary VoIP equipment and software for automation of business processes and proven tools to protect against AntiFraud systems. Over 2,000 customers in 31 countries have succeeded in the GSM termination using our service. You can become one of them!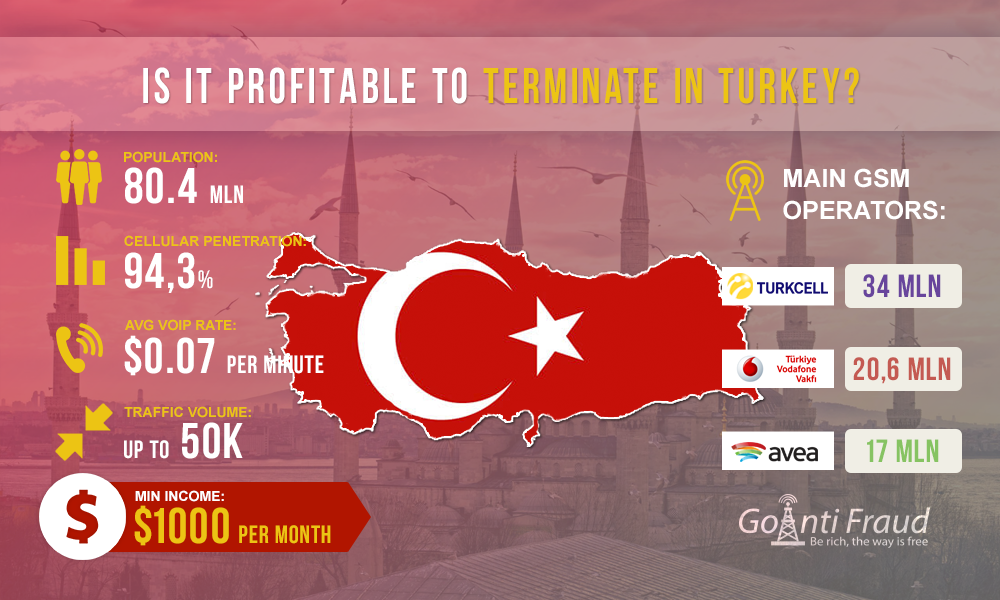 For a number of the above reasons, the terminators often install GSM gateways and work actively. However, their income may be identical to the profit of a small town.
However, there are incidents in the voice termination services Turkey. In the opinion of entrepreneurs in the GSM sector termination, SIM-cards are quickly blocked as authorities strictly monitor the landing of international calls via local tariffs. It can seriously complicate doing business for beginners in this country. Plus, Turkey has a resolution on compulsory registration of the purchased numbers. However, the period for registration is a month, or even two weeks in some cases. Until then, you can use the card to terminate, and then buy a new one.
In Turkey, about 74% of the population use mobile phones. This is an excellent figure to place the VoIP-GSM equipment in the country. 97.21% (about 71.55 million) of the number of users mentioned above prefer Turkcell numbers. Demand for termination of traffic passing through this operator is a leader in the forums. Vodafone and Avea are slightly behind it. Vodafone has 20.6 million users, Avea - 17 million, i.e. each of them covers about 20% of the market.
It is best to terminate in major cities, avoiding the eastern part of Turkey, since there are often problems with communication due to the mountainous terrain. However, using TURKCELL, you can avoid such incidents. After all, the company has not only the largest database of subscribers, but also provides the best coverage in the country.
Originator companies are willing to pay an average from $0.0177 to $0.0202 per minute, depending on the operator. Traffic volumes that transiors offer range from 30 to 50 thousand minutes in Turkey. The minimum income that a terminator can get is equal to $1,000.
Complete NewBusiness solution from GoAntiFraud is your successful start into the GSM termination! We provide ready-business on a turnkey basis, which includes a set of GoIP equipment by EjoinTech or ChinaSkyline, convenient software to computerize the operation and efficient tools to protect the SIM-cards from the lock. We also provide qualified technical support at every stage of your business. Our business model is based on the successful experience of more than 2,000 customers in 31 countries!