Turkcell is the best GSM-operator in Turkey, which have the largest number of users, covering 98% of the country. That is why many terminators give it a preference for installing and connecting gsm gateways in this direction.
The operator offers 5 prepaid packages: Turbo 6 GB, Turbo 4GB, Turbo 2GB, Platinum Elit 2000, and Platinum Elit 1000, each of which includes several tariff plans for the different top-up amount. There are 10 tariff plans for subscribers in total. Among them the optimal ones are Turbo 4GB, Turbo 2GB, and Platinum Elit 1000 and 2000.
Turbo 4GB and Turbo 2GB provide a minute starting from $0.0011 to $0.0014. At the same time, Turbo 4GB package provides two tariff plans to be prepaid $15.84 and $19.07 per month, and an unlimited number of calls within the network. However, after connecting a sim card gateway, each user needs to activate the GSM number.
If you are just starting your way in GSM termination - start it with GoAntiFraud! For beginners, we offer a complete NewBusiness solution that includes a set of necessary VoIP equipment and software for automation of business processes and proven tools to protect against AntiFraud systems. Over 2,000 customers in 31 countries have succeeded in the GSM termination using our service. You can become one of them!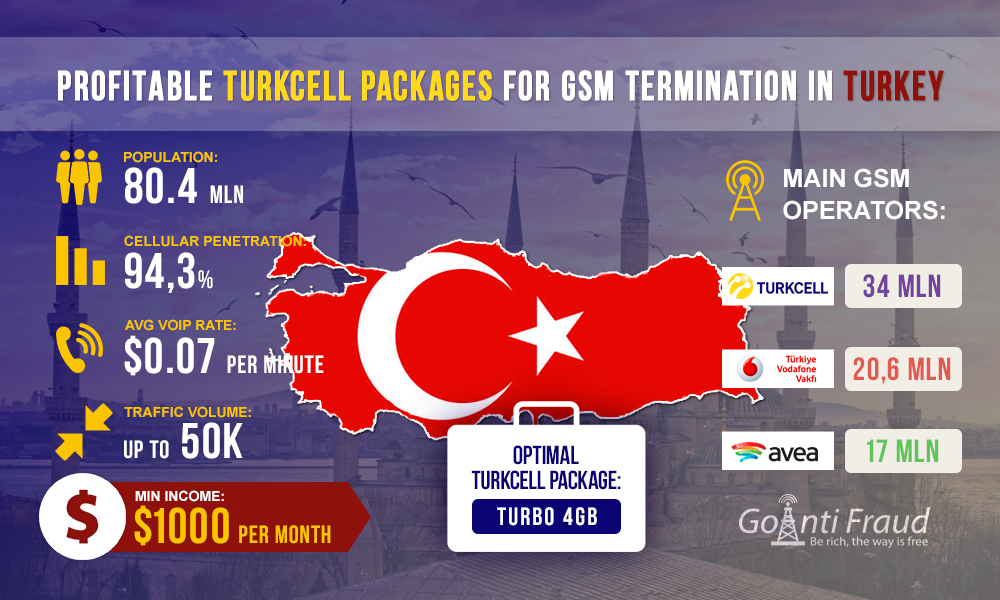 Turkcell also provides an unlimited number of minutes for its subscribers to use Platinum Elit 2000 and Platinum Elit 1000, with one minute being from $0.0036 to $0.0039. These packages are divided into several types: Platinum Elit 2000 costs $51.39 and $57.86, as well as Platinum Elit 1000 has to be prepaid for $48.16 and $54.63. Platinum Elit 2000 and Platinum Elit 1000 are best suited for termination.
The traffic provided by Turkcell via originators costs $0.0994 per minute. Given the rates suggested above, the net profit per minute is from $0.0983 to $0.0955. It's worth noting that Turkcell offers unlimited calls within the network, which plays into the hands of the terminator. The operator cannot immediately suspect GSM termination if there are numerous calls. When organizing a voip service business in Turkey, earnings per month could be from $1,283.58.
Complete NewBusiness solution from GoAntiFraud is your successful start into the GSM termination! We provide ready-business on a turnkey basis, which includes a set of GoIP equipment by EjoinTech or ChinaSkyline, convenient software to computerize the operation and efficient tools to protect the SIM-cards from the lock. We also provide qualified technical support at every stage of your business. Our business model is based on the successful experience of more than 2,000 customers in 31 countries!