Beeline Kyrgyzstan (Sky Mobile) is the second largest operator after Megakom. It has 34% of all mobile subscribers in the country's market (2.752 million people).
Terminators often prefer this recognized operator, since it offers cheap rates and good connection conditions.
Beeline offers 7 prepaid packages, which are "Suyle 40", "70 Suyle", "Suyle 100", "Super Ukmush +", "Basic", "Zero for us" and "Start +". Of these the most suitable for termination are only four. They are "Super Ukmush +", "Zero for us ", "Basic" and "Start +".
VoIP termination in Kyrgyzstan will be profitable only in the event that if you choose the best tariff plan to make local calls. From this point of view, the most suitable is "Super Ukmush +". One minute of termination will cost just $0.0087, and the sending of SMS - $ 0.0145. However, terminators must remember that if you connect this package, you will be charged by starting from the tenth second of a call. "Super Ukmush +" does not provide for the mandatory fee. When switching to this tariff you need to dial a combination of characters: *555*055#.
Cloud service GoAntiFraud is developed for profitable VoIP GSM termination. Connect your GoIP equipment, EjoinTech & ChinaSkyline or Topex to our service, and you will provide it with 100% productivity. Our technical experts will help you to quickly set up the GSM gateways and basic logic of termination.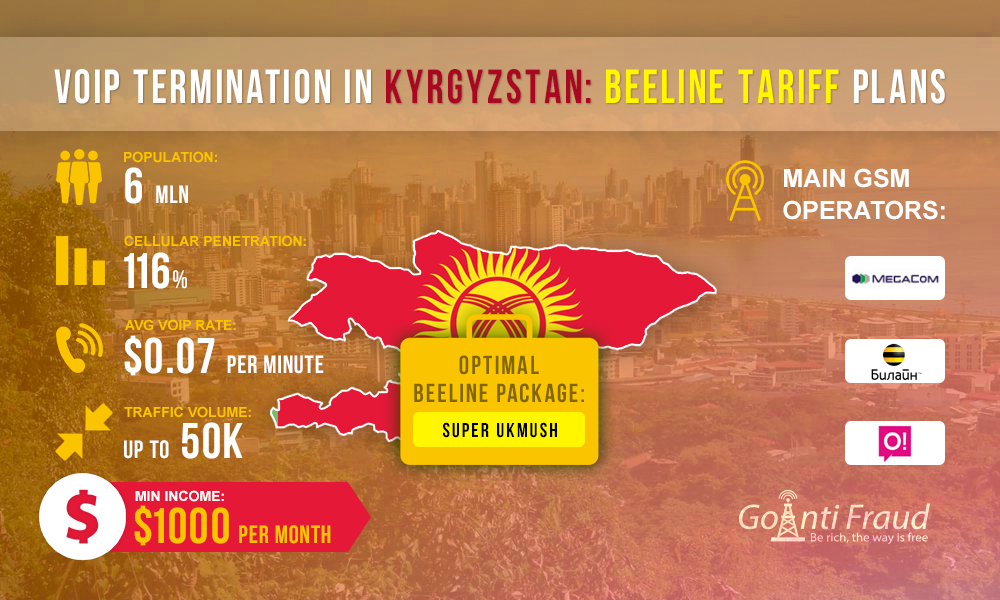 When using "Zero for us" package, termination will cost $0.0124 per minute This cost is calculated based on a 6-hour operation a day. Termination of calls via "Zero for us" as opposed to "Super Ukmush +" is only possible if you pay $0.14 a day. This tariff plan is suitable for landing calls, since the operator does not immediately block a SIM-card. In addition, you get 50 free minutes each day. Billing begins from the 51st minute of conversation. When connecting to this tariff plan, you need to dial a combination of numbers *555*510#.
You can put the other two packages - "Basic" and "Start +" on the third place in terms of cost and connectivity. One minute of conversation will cost $0.0145, if you use them. You have to pay the same cost when you send an SMS-message.
When calculating the profit you get via Beeline SIM-cards, it is worth considering that the price per minute of termination in Kyrgyzstan is $0.07 on average. Your monthly income could be about $1,000. And if you install a GOIP 16 gateway, the above amount can be multiplied by the number of ports.
We have developed GoAntiFraud service to improve the efficiency of GSM termination. Proven tools to bypass AntiFraud systems can significantly extend the lifespan of SIM-cards. With our service you can automate routine actions to work with SIM-cards and remotely control all equipment from a single personal account.