Many terminators think the Middle East is a promising area and Iraq is no exception. However, beginners do not rush to install the VoIP equipment here, for fear of incurring financial losses. After all, in Iraq, there is the unstable political and economic situation, especially in the north, where the military action is taking place.
Losses can be avoided when terminating if you properly approach the issue. The region of Kurdistan remains. The most peaceful place in Iraq, which covers the southern part of the country, including the main province of Dahuk, Erbil, and Sulaymaniyah. Here, residents, unlike in the belligerent northern, regions live and work normally.
A positive aspect in terms of GSM termination in Iraq is the migration of the population caused by the military action. According to official data, in Syria, there are about 2 million Iraqis, in Jordan - 1 million, in the UK and Israel - 250 thousand, in Iran - 203 thousand. Immigrants provide a steady flow of international voice traffic in the country.
Boost your business profits in the GSM termination by ordering the GoAntiFraud Corporate Solution from! Choose the best package - Start Up, DeLuxe or Ultimate, and get the best opportunity to evaluate all the possibilities of the service! You can also buy GoIP equipment by EjoinTech & ChinaSkyline at low prices.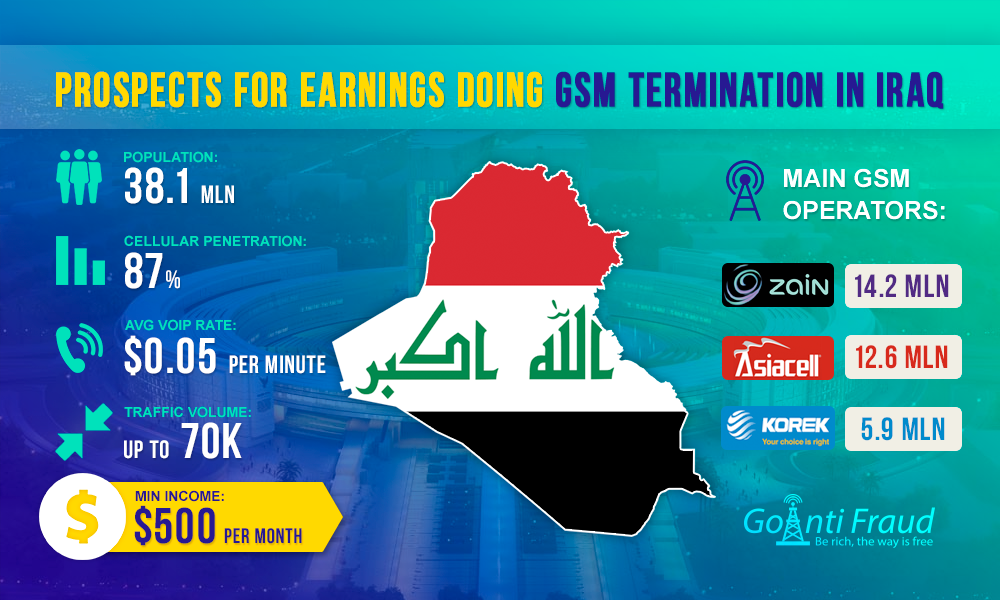 Besides, mobile communication in Iraq is more stable, compared with other types of communications. About 33 million of the total number of Iraq's population (over 38 million) use the services of GSM operators. The coverage is 75-78% of the territory, which is enough for a successful traffic termination.
The main GSM-operators in the country are Zain Iraq, AsiaCell, and Korek Telecom. Based on the number of users, Zain Iraq services 14.3 million people, while Asia Cell - 12.6 million subscribers. Korek Telecom services are used by about 5.95 million people.
In recent years, there is a tendency to an increase in demand from the originators of the final termination of traffic in the country. Therefore, many do not mind to install a VoIP server, and all the necessary equipment in Iraq to make money terminating international calls. A few years ago originators offered an average of 20K, today the demand reaches 70K. The cost of one VoIP minute is $0.04- $ 0.06.
One minute of a conversation in the country costs $0.00068 on average. Accordingly, in you can get an income of $500 a month via a single channel. Experienced terminators usually install the 32-channel devices. If you connect a GOIP 16 gateway or a 32 channel device, you can earn more.
GoAntiFraud Corporate Solution is an advantageous offer for GSM termination professionals! Complex solution for corporate customers will improve the profitability of your business many-fold! You will have professional advice from technical experts GoAntiFraud, tools for efficient protection against the SIM-block, SBO traffic optimization and other capabilities of the service at your disposal.