With a population of 19.3 million people, Romania has a high penetration rate of cellular communications - more than 140%. With a low cost of voip minutes (1 cent on average), this country has excellent opportunities to make money doing GSM termination.
The annual amount of international traffic here is about 4 billion minutes. Even if you install equipment that has a few channels, such as goip gs-1, you can make good money.
In Romania, there are 4 GSM operators, the largest of which is Orange. Its subscriber base totals 10.2 million users. The main competitor of Orange is Vodafone, with whom it constantly struggles for one of the most dynamic cellular communications markets in Eastern Europe.
You can run a profitable VoIP termination business in any country by connecting your equipment to GoAntiFraud. Our integrated solution greatly reduces risks of blocking of SIM-cards by AntiFraud systems. We also offer NewBusiness packages for beginners that provide everything necessary for a successful start, including a set of VoIP equipment by GoIP, EjoinTech & ChinaSkyline.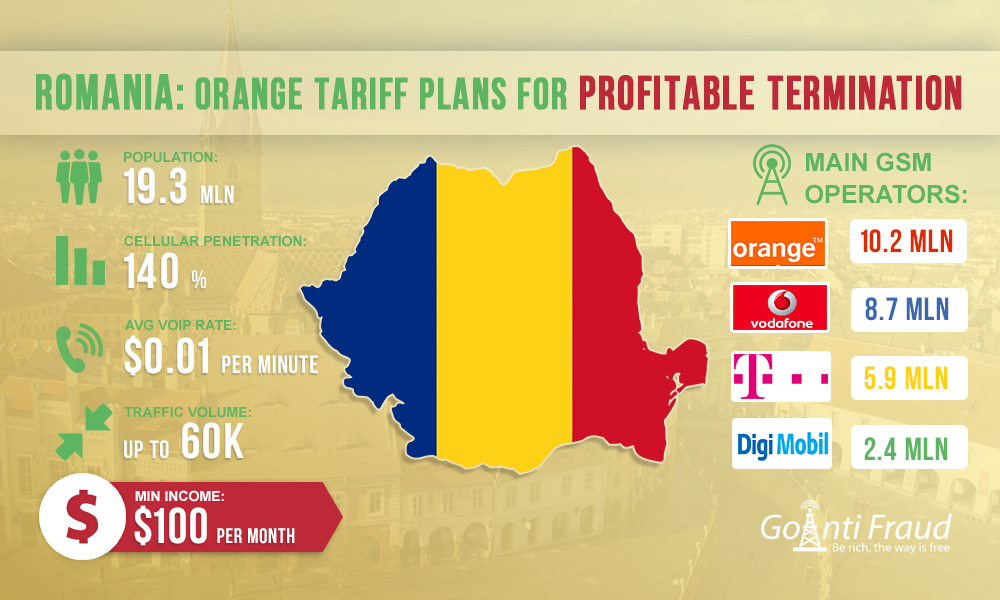 The operator offers 4 prepaid packages:
For 6 euros - 2,000 free minutes (fixed communication);
For 8 euros - 300 free minutes (fixed communication);
For 10 euros - 400 free minutes (fixed connection);
For 5 euros - 50 free minutes (fixed connection).
At the same time, all these packages offer no-limit within the network. Thus, the most profitable option is a tariff plan for 5 euros. When you connect it, one minute of conversation will cost as little as $0.001 (if you terminate 200 minutes a day). Using the Orange package for 5 euros, you will make about $300 a month via one GSM gateway channel, taking into account the cost of new SIM-cards. The SIM card costs about 5 dollars, the period of its "life" is 3 days on average.
In Romania, GSM operators use special systems called sim box fraud detection, to analyze the activity of subscribers to monitor the termination of traffic. Before you place VoIP equipment in this country, take care of disguising SIM cards from anti-fraud systems, in order to avoid quick locking.
VoIP GSM termination can bring you a lot of profit if the SIM-cards are provided with reliable protection against blocking. Proven GoAntiFraud tools can simulate human behavior in GSM networks for efficient disguise from Antifraud of mobile operators.