Plus Communication is the fourth largest GSM operator in Albania. Its services are used by about 400 thousand subscribers. And this is 13% of the country's mobile market. However, the above figures are growing rapidly as the operator offers the cheapest rates for cellular communications to customers.
Plus Communication offers 7 prepaid packages that can be used for GSM termination in Albania. The most profitable tariff plans are:
BlackBerry.
PLUS 1000.
PLUS 1200.
PLUS 1600.
If you are just starting your way in GSM termination - start it with GoAntiFraud! For beginners, we offer a complete NewBusiness solution that includes a set of necessary VoIP equipment and software for automation of business processes and proven tools to protect against AntiFraud systems. Over 2,000 customers in 31 countries have succeeded in the GSM termination using our service. You can become one of them!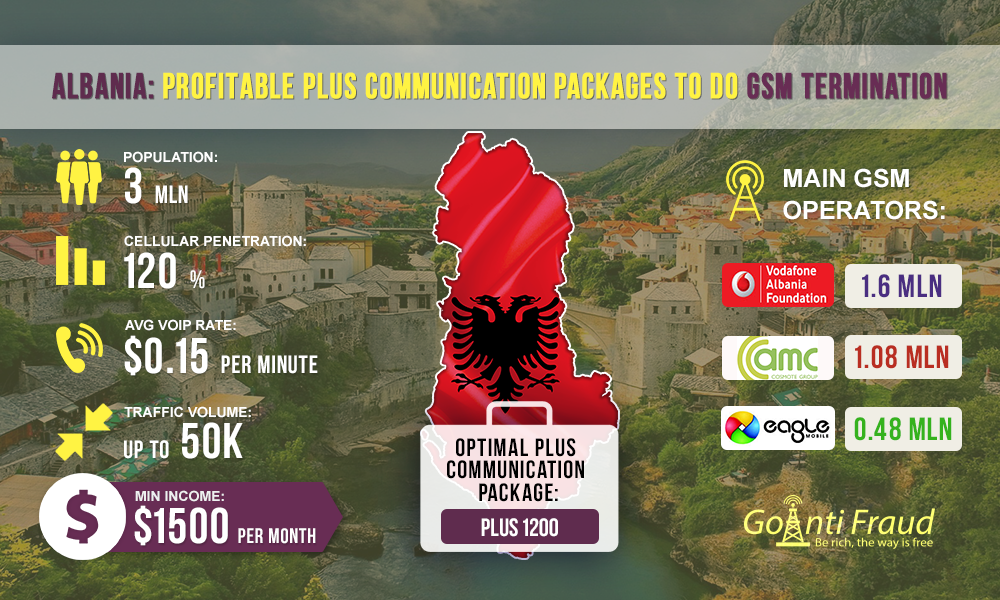 The optimal packet for terminating traffic is PLUS 1200. When you connect to it, the operator provides 1,600 minutes to make calls within the network for $9.39. One minute of a local call will cost as little as $0.0059 if you apply an average load on VoIP equipment.
The average cost of one VoIP minute in Albania is $0.15. The revenue per minute of termination will be about $0.145, and you can make $1,500 via one channel of equipment. When you install GoIP 32, the above amount increases.
It is believed that Plus Communication applies the most loyal antifraud of all 4 cellular companies in Albania. SIM-cards are locked not so often as in a case of Vodafone. In addition, you can GoAntiFraud, which will extend the lifespan of your SIM-cards and save money on the purchase of new ones.
Complete NewBusiness solution from GoAntiFraud is your successful start into the GSM termination! We provide ready-business on a turnkey basis, which includes a set of GoIP equipment by EjoinTech or ChinaSkyline, convenient software to computerize the operation and efficient tools to protect the SIM-cards from the lock. We also provide qualified technical support at every stage of your business. Our business model is based on the successful experience of more than 2,000 customers in 31 countries!