Almost 31.1 million subscribers use Airtel's services, that is, it owns about 40% of the mobile market in Nigeria. The operator offers 13 prepaid packages.
The most profitable of all that are offered is Smart VALUE. Using it, a minute will cost you as little as $0.000479, which is much cheaper than those of other GSM operators. For the SIM card gateway owner, this tariff plan will be the best choice.
Airtel also offers a number of other prepaid packages that are acceptable for termination. They are Premier Connect N8,000, Smart TRYBE, and Smart TALK 2.0. Premier Connect N8,000 allows you to call for $0.03 a minute, Smart TRYBE for $0.08, Smart TALK 2.0 for $0.02. You have to pay starting from the first minute of the conversation. These packages are not so tightly controlled by the anti-fraud system of the operator since they provide for numerous calls, which gives great privileges for termination.
In addition, for these tariff plans, the operator provides bonuses. For example, Premier Connect N8,000 provides from $0.12 to $0.54. Smart TRYBE offers $1.60 up to 7 days. To save money on calls, you can use the special weekend offers. At the same time, the operator adds $0.64.
Connect to GoAntiFraud to obtain solid income in GSM termination. GoAntiFraud provides an opportunity for you to run a profitable business using efficient tools to simulate human behavior on the network. We can help you customize the logic of termination in accordance with the features of your country, in order to minimize risks of SIM-block.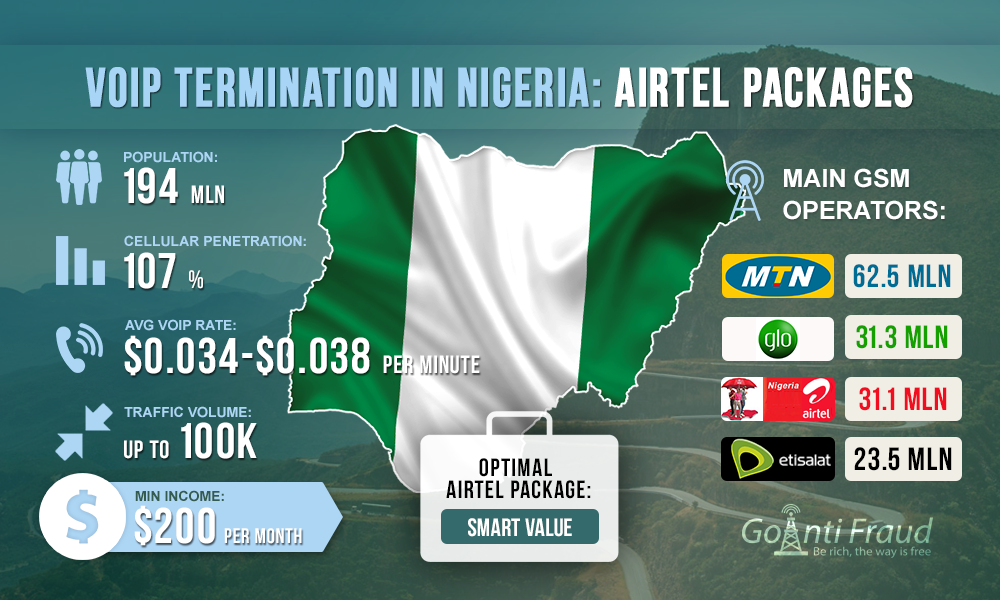 Terminators can also use the monthly tariff plans Premier Connect 5000, Premier Connect 10000, Premier Connect 20000, and Premier Connect 50000. Using them, a minute will cost about $0.05. It's expensive as the rate varies from $0.034 to $0.038. To do the termination, it is better off connecting Smart VALUE packages. Using them, the minute of the conversation will cost $0.000479. Terminator revenue per month will be about $200 via 1 equipment channel.
At the same time, the demand for termination of Airtel traffic is great enough. Offers from companies to buy VoIP minutes wholesale are made quite often. Originators are interested in buying routs in the direction of Nigeria starting from $0.034 per minute.
You can additionally use the GoAntiFraud tools to increase your profits. After all, you can extend the lifespan of SIM-cards, avoiding blocking by GSM-operator. Customers of the service get access to such functions as SIM cards migration, moving SIM cards around the city, etc., which allow simulating the behavior of a real subscriber.
Do you want to start a GSM termination business? We offer you a turnkey solution for beginners - a comprehensive package that includes the tools to protect the SIM-cards from blocking, equipment produced by EjoinTech & ChinaSkyline, as well as a handy software to computerize the operation.