T-Mobile is one of the leaders in the Slovak cellular market, with its GSM covering 99% of the country's territory. The subscriber base of the operator has more than 4.5 million users. The average rate in Slovakia is low ($0.02 per minute), so it's important to choose a favorable tariff plan to do call termination.
A T-Mobile SIM-card costs 9 euros but you immediately get the same amount to your account. There are several prepaid packages suitable for traffic termination:
Happy L. For $29.8 a month, you get the opportunity to make free calls to all T-Mobile numbers, and in addition, you are credited with 250 minutes for calls to other networks.
Happy XL. For $29.8 a month, you can call free of charge to all networks in Slovakia, and you are provided 1,000 minutes to make calls within the country and to neighboring EU countries.
Happy XS provides unlimited calls on weekends for $10.6 a month, plus 50 minutes for calls in Slovakia and to neighboring EU countries.
Easy Card - unlimited calls. You can make unlimited free calls within the Telecom network for $2.9 per week. You can connect these bonuses when purchasing an Easy Card for $5.2 (at the same time you immediately get $9.5 to your account).
To prevent blocking of SIM-cards, use GoAntiFraud. Efficient tools for the simulation of human behavior on the GSM networks will allow you to significantly increase your revenues.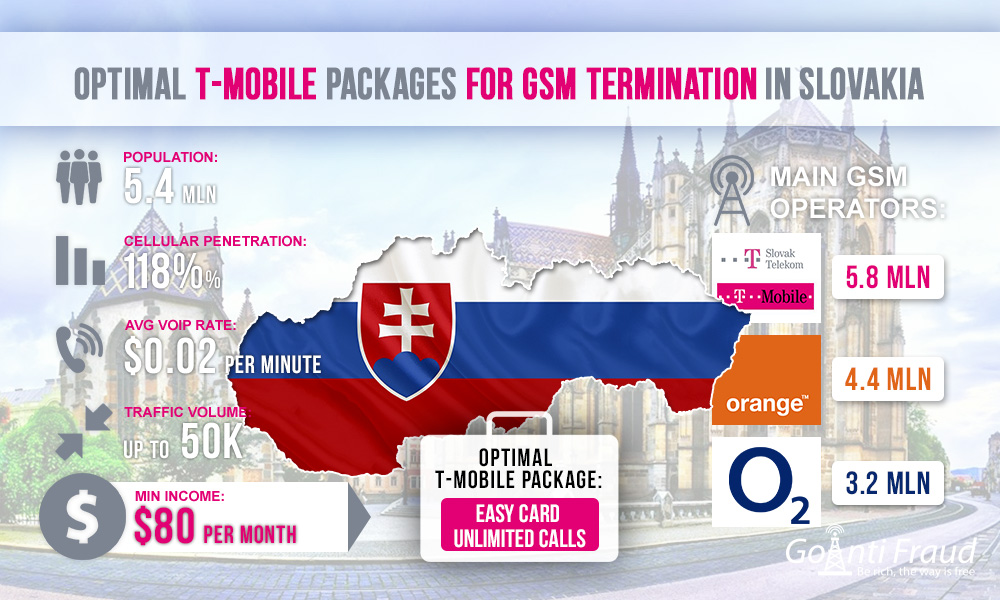 Making unlimited calls via Easy Card is the most profitable option. You will have to spend money on SIM-cards once a week as the SIM-card can last 5 days. You can make free calls to T-Mobile numbers. Thus, when terminating for 5 hours a day, you can earn about $100 via one channel. By installing multi-channel VoIP equipment, you can significantly increase profits. To remotely control a large number of channels, you will need a SIM bank and iq sim or another SIM server.
GoAntiFraud will allow you to minimize the risks of the SIM-lock in the GSM termination. Reduce business costs on the purchase of new SIM-cards by buying the service license and you will get more profit!