The penetration of mobile communications has reached 55% in Uganda, with a population of more than 41.5 million people. The high level of telecommunications development, in parallel with the high rate (about 10 cents), offers excellent opportunities for obtaining high revenues from GSM termination. In order to make good money in Uganda, it is important not only to properly circumvent anti-fraud systems but also to choose the right GSM operator.
In Uganda, the rather crowded mobile market is represented by 7 operators:
MTN;
Airtel;
Vodafone;
Uganda Telecom (UT);
Africell;
Smart Telecom;
Smile.
Are you going to start a VoIP GSM termination business? We bring to your attention GoAntiFraud video materials which contains information about VoIP technologies and the capabilities the service has to offer. Step-by-step video instructions will help you understand what GSM traffic termination is and how to start a profitable business in this area. Do not forget to subscribe to our YouTube channel so that you can always use helpful video materials at any time!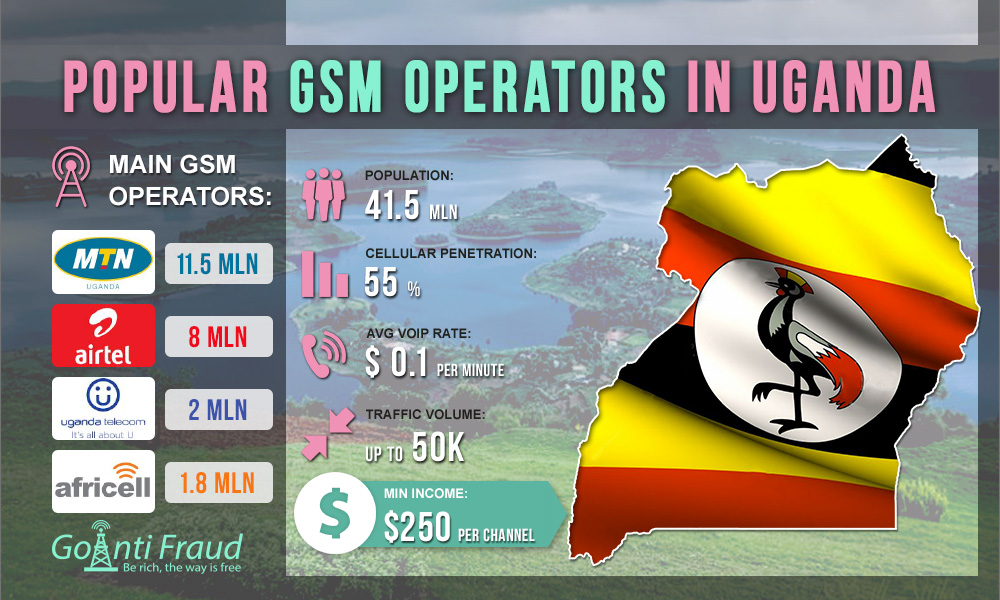 The two largest operators that compete with each other are MTN and Airtel. The subscriber base of MTN consists of more than 11.5 million users, and about 8 million people use Airtel. These two cellular companies are actively competing with each other.
Warid used to occupy the third place in the market but in 2014 it was bought by Airtel, having strengthened the positions in the market. Uganda Telecom currently occupies third place in terms of subscriber base, with the number of connections being about 2 million, Africell the fourth, with the number of subscribers being over 1.8 million. In 2014, Africell bought Orange Uganda, becoming a stronger player in the mobile market of the country.
In 2015, Vodafone entered Uganda. To date, its subscriber base has 100 thousand users since the company is more focused on providing 4G services. The number of connections to Vodafone 4G networks exceeds 1.4 million, with LTE networks of the new generation covering almost the entire territory of the country.
In order to run VoIP termination business in Uganda, it is worth connecting to a major GSM operator. SIM-cards from MTN, Airtel, UT, and Africell are the most suitable. In addition to placing GSM gateway, SIM-bank, and other equipment, think in advance about the connection of a favorable tariff plan.
If you are just starting your way in GSM termination - start it with GoAntiFraud! For beginners, we offer a complete NewBusiness solution that includes a set of necessary VoIP equipment and software for automation of business processes and proven tools to protect against AntiFraud systems. Over 2,000 customers in 31 countries have succeeded in the GSM termination using our service. You can become one of them!